How to mine Ethereum
Ethereum is one of the most popular currencies in miners. Ethereum offers better profit margins for miners as compared to the recurring cost of electricity. You can mine Ethereum on Windows. While Bitcoin is considered the pioneer of cryptocurrencies, Bitcoin mining is not for everyone due to the cost of the hardware involved and difficulty in mining algorithms. While people are investing in other cryptocurrencies mining like Ergo mining, Dogecoin mining and Cardano mining, Ethereum mining has retained its spot as one of the most favourite cryptocurrencies to mine. Ethereum is also the top currency for future web 3.0 development. In this post, we're going to see how to mine Ethereum on windows 10 in 2022. So, if you have computer hardware you have laying around while it's not gaming or in production, you might as well make some money with it by quickly starting Ethereum Mining in Windows 10.
RoadMap- Mining Ethereum
Crypto mining seems to be very complex. But we are going to breakdown our today's Ethereum mining tutorial into simple Five steps:-
Get an Ethereum Wallet
Download an Ethereum miner
Configure Ethereum Miner
Calculating Mining profits
Getting Ethereum Mining Payout
Get an Ethereum Wallet
To get started with Ethereum mining, the first step is to get an Ethereum miner. You can get an Ethereum wallet on many different platforms. Some of them are as follows:-
Get an Ethereum Wallet at Binance
Binance is a crypto exchange that offers free wallets for many cryptocurrencies. To get an Ethereum wallet, visit Binance and log in with your account. Go to the wallets tab and choose Fiat and Spot. Then select Ethereum. Click the Deposit option and a new page will appear with your Ethereum Wallet address.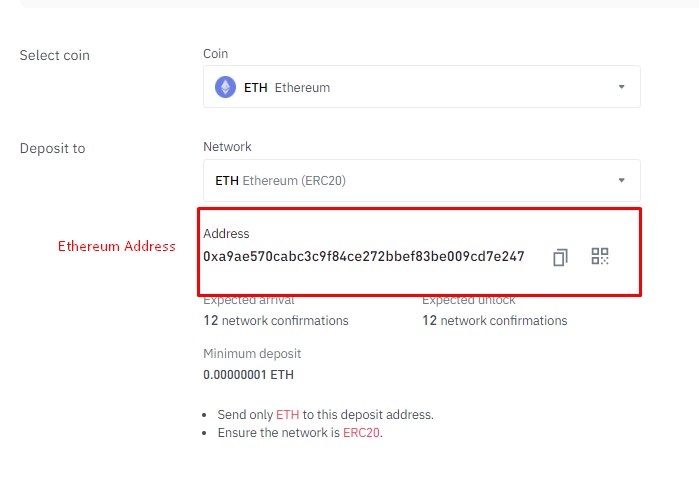 Get an Ethereum Wallet by MetMask
Metamask is a chrome extension based wallet to store Ethereum. The biggest advantage of using Metamask is that once you get a payout from Ethereum mining, you can start utilizing the Ethereum that you have in your wallet to make even more money with uniswap very easily.
To get an Ethereum wallet, go to metamask.io and click the install Metamask for chrome. Alternatively, you can go straight to the Metamask plugin page in the chrome web store in chrome or Brave and choose to add the extension. Once the extension is installed, it will take you to a get started page at this point you're going to click get started. Click create a wallet. Agree and then choose a password.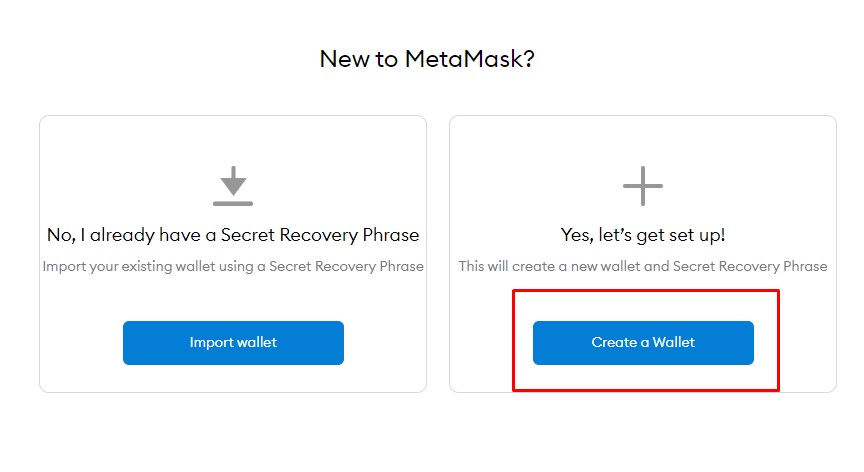 The best way to create and store a strong password is to use a good password manager. There are many good password managers. Some of them are as follows:-
You can also use random.org to generate a strong password. you can go to the free password generator. Make sure that you have at least eight characters for Metamask and click get passwords. You'll be presented with a list of passwords and this is an easy way and a free open source way without downloading any other software to generate random passwords.
Once you click create, you will get your secret key or secret words this is for recovery of the wallet and is basically what you would use if you're either moving browsers or moving machines. This is very important not to share this with anybody and don't lose it.
Now you save your recovery phase by any of the following methods:-
Write it in a notepad.
Writing it down on a piece of paper and saving it in a fireproof locker.
Saving on some external drive and encrypting it with Bitlocker or Nord locker.
You will notice with Metamask when you're recovering you don't actually type the words out. The reasoning for this is to prevent people from gaining your information through software known as keyloggers.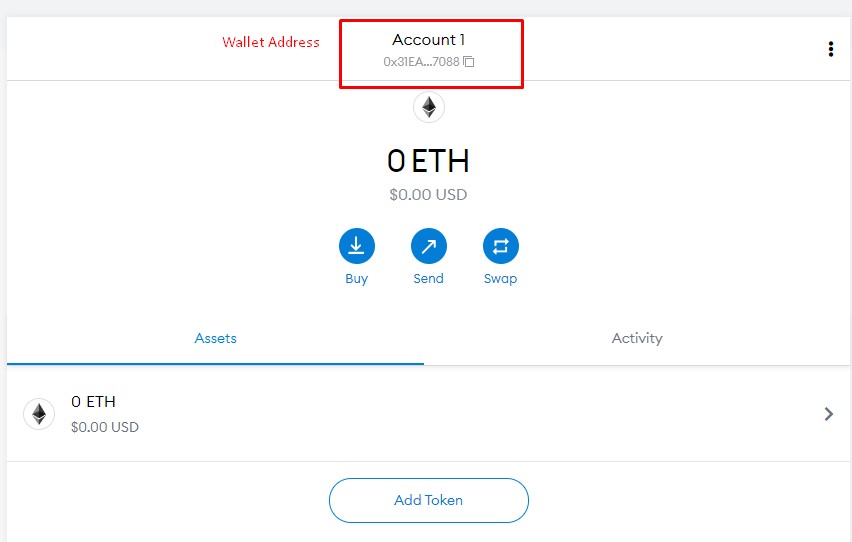 As discussed earlier, the token swapping option is also visible. So you can swap directly in the Metamask wallet.
Now you can get the address for your wallet which we will use in the next steps to receive our mining rewards.
So, now we have seen two options for getting your Ethereum wallet. There are other wallets available as well like paper wallets and hardware wallets like Trezor.
Bonus Tip – Get a Chrome alternative Chromium-based Browser
Chrome extension based wallets work in any chromium based browser like Chrome, Edge or Brave. You can use any chromium-based browser for MetaMask Ethereum Wallet however, brave provides distinct advantages as it is built on the blockchain. You can also earn brave tokens while using brave and then you can use that tokens to trade out from some for some real-world money.
Moreover, the browser is highly recommended for its privacy tools including the option to access tor straight through the browser. The browser works with all chrome extensions so you are not losing anything as well.
Download an Ethereum Miner
The next step is going to be downloading the Ethereum miner. So today we're going to be using lol miner. we are going to be obtaining it directly from their GitHub site. there are a lot of different phishing websites when trying to search for a miner in google. You need to keep in mind that all crypto miners are considered malicious to some extent by antivirus solutions which means you will have to make an exception so you want to be very very certain that you're downloading from a safe website because you will have to allow it through of course your firewalls as well as through the browsers.
Downloading Lolminer
Scroll down on the official Github page of Lolminer. and we are looking for the lol miner win64.zip file and we're going to start downloading it. Once downloaded we're going to extract it. I would recommend putting it somewhere that you want to access it so you will right click and say extract all if you're using the built-in Windows 10 decompression tool or you can use 7-zip or WinRAR.

Configure Ethereum Miner
Now, we have all the files to start mining. There are some pre-configured batch files here and they are preceded by dot bat file extension. To configure the Ethereum miner, we need to join a mining pool. we will be using our favourite mining pool, ethermine.org for today's tutorial. You can use any mining pool depending on your region or liking. you may want to choose one that is closer to you that being said Ethermine is the most popular mining pool in the US but it does have international options as well.
Join an Ethereum Mining pool
Visit the official website of Ethermine. Click the "Start mining" button up in the top right. Here is where you are going to find your mining server they have options for Asia, Europe, US East and US West. Here, you see the port and server address that you need to configure in your miner.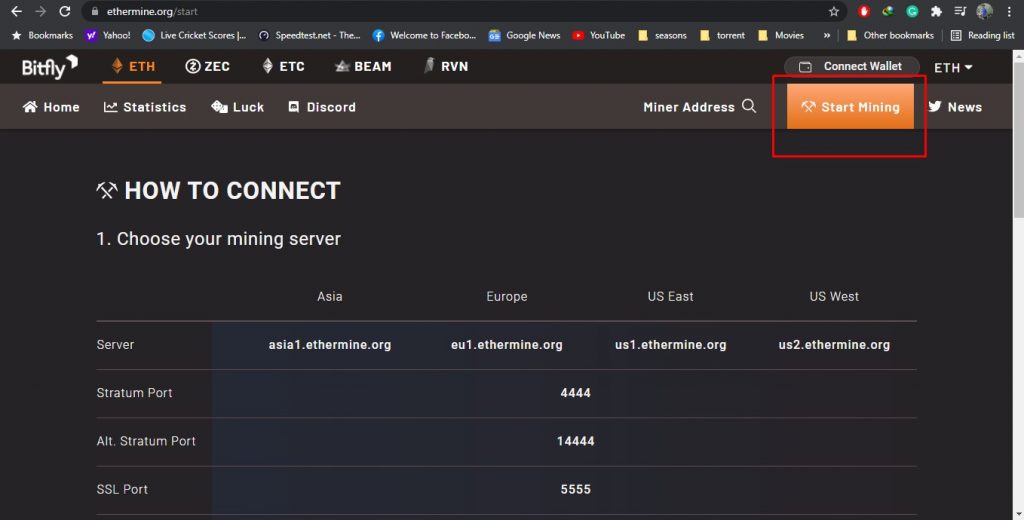 Modifying Ethereum Mining File
Now we need to modify the pre-configured batch file from the miner that we downloaded and extracted. Go to your extracted files and look for mine_eth. Right-click the batch file and click edit and this is where Windows is going to protect your pc so you'll have to click more info and click run anyway this is the this is why we spoke about the importance of downloading it from the official GitHub as opposed to other sources because you are going to have to add an exception to windows so we're going to click run anyway and then our configuration file will open.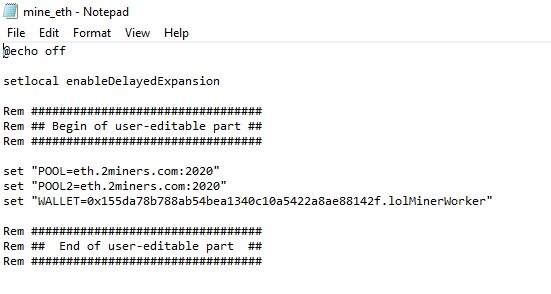 Here we need to set up two things.
Ethereum pool address. This is where we input the information from Ethermine for the pool address. Today we're going to be using the US East server. So head over and copy the details including server address and port numbers and edit in the file. use the Stratum port number in the port field.
Now enter the wallet address that you obtained from Binance or Metamask.
Now after the wallet address add your mining rig name which you can enter as per your liking.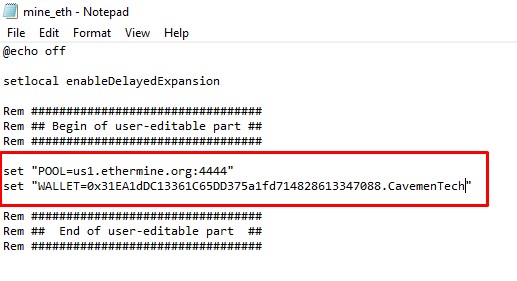 Start Ethereum Mining
Now, save the file and double click the batch file to start the miner. Once our miner starts working and GPU starts working, we will get a report of the mining speed. The mining speed is calculated for Ethereum as a mega hash per second. This number will give you an idea of your potential profit. Now we're at 61 mega hash a second.
Calculate Ethereum Mining Profits
To calculate the profit you can go back to a web browser and use a site called whattomine. So in the case of this one we are at 61 mega hash. Now you should calculate watts as well as input your cost per kilowatt per hour but for this tutorial, we're just going to calculate only gross revenue. so we're going to click calculate and scroll down and you can see that we can make approx four dollars a day in revenue.
Getting Ethereum Mining Payout
Now that we have the miner running we know what our projected revenue will be and we will let the miner run for a little bit and then we will come back and make sure it is actually mining to the pool. Head back over to ethermine.org. Enter your mining wallet address in the "Miner Address bar" and then click enter. Here you will see workers active and the profits that you have gained.
You can also change your payout limit from your dashboard and transfer it to a crypto exchange wallet to convert your Ethereum into Fiat money. You can also earn money by staking Ethereum on major crypto exchanges.
So, in this way you can earn money by mining Ethereum. If you want to earn crypto without mining you can check our tutorial on crypto Affiliate programs.

FAQ
Can Ethereum be mined on Windows 10?
Yes, Ethereum can be mined directly on Windows 10. You can use a miner like Lolminer and an Ethereum wallet from Binance or Metamask to directly mine on Windows 10.
What is the best Miner for Ethereum on Windows 10?
LolMiner is an excellent Miner for Ethereum that supports various GPUs on Windows 10.
What is the best Ethereum mining pool?
Ethermine is considered the best Ethermine mining pool with pool servers being available for the USA and Europe.
How to get an Ethereum Wallet?
You can get an Ethereum wallet from exchanges like Binance. You can also get an Ethereum wallet easily by installing the Metamask extension on chrome or Edge.
Disclaimer
The Post is only the views of the author and should not be taken as legal or financial advice.