Best Chrome Extensions for Bloggers, Youtubers and Digital Marketers
If you are working online as a blogger, YouTuber, Digital marketer or content creator from home and are looking to increase your productivity and increasing your output speed, the right Chrome extensions can help you a lot to achieve your goal. In this post, we are going to see the best chrome extensions for bloggers and everyone else that is working online.
What is a Chrome Extention
Chrome extensions are little add-ons that you can add to the chrome browser to enhance your browsing experience and get extra information from websites that they normally do not show. Some attention adds a specific feature to your chrome browser like for example spell-checking.
Mot useful Chrome Extensions
In this post, we are going to discuss 10 cool extensions for chrome that you must install as a working online professional.
1. Best Instagram Manager extension – Insist
The first chrome extension is called the Inssist. It's one of the best extensions to manage Instagram. Insist can help you manage the following for Instagram within the extension:-
Schedule Desktop posting for Instagram.
Scheduling and managing hashtags for Instagram posts.
Managing Direct messages
So, the Inssist has been designed to manage your complete Instagram account within the desktop chrome browser.
2. Best Spell-checker extension for Chrome – Grammarly
The second cool extension for chrome for content creators and bloggers is Grammarly. Grammarly is really a treasure as it helps you a lot if you are writing emails, blog posts or writing anything online. Grammarly provides automatic spell checking and grammar correction. Grammarly will automatically fix everything you are writing and what's nice is you can start totally for free so Grammarly is the second most productive chrome extension on our list.
3. Best Chrom Extension for Youtubers – VidIQ
VidIQ is one of the best chrome extensions for Youtubes. The extension helps you to grow your youtube channel. Once you have installed the VidIQ extension, whenever you view or upload a video, VidIQ adds a lot of stats with the video like when is the best time to publish, What is the SEO score and what are the tags being used. So, VidIQ helps you to rank your videos and boost your youtube views and subscribers 
4. Best Keyword research Extension for chrome – Keywords Everywhere
Number four best chrome extension is for content creators and SEO professionals. "Keywords everywhere" is one of the best applications or chrome extensions for SEO.  With the extension installed, Keywords everywhere will automatically give you the search volume, CPC and the competition for the keyword that you will type in your search bar. it's also a great extension if you are working in  SEO. Keywords everywhere is somehow a paid extension but you can start for free. If you like to get more details for keywords, you may need to buy credits.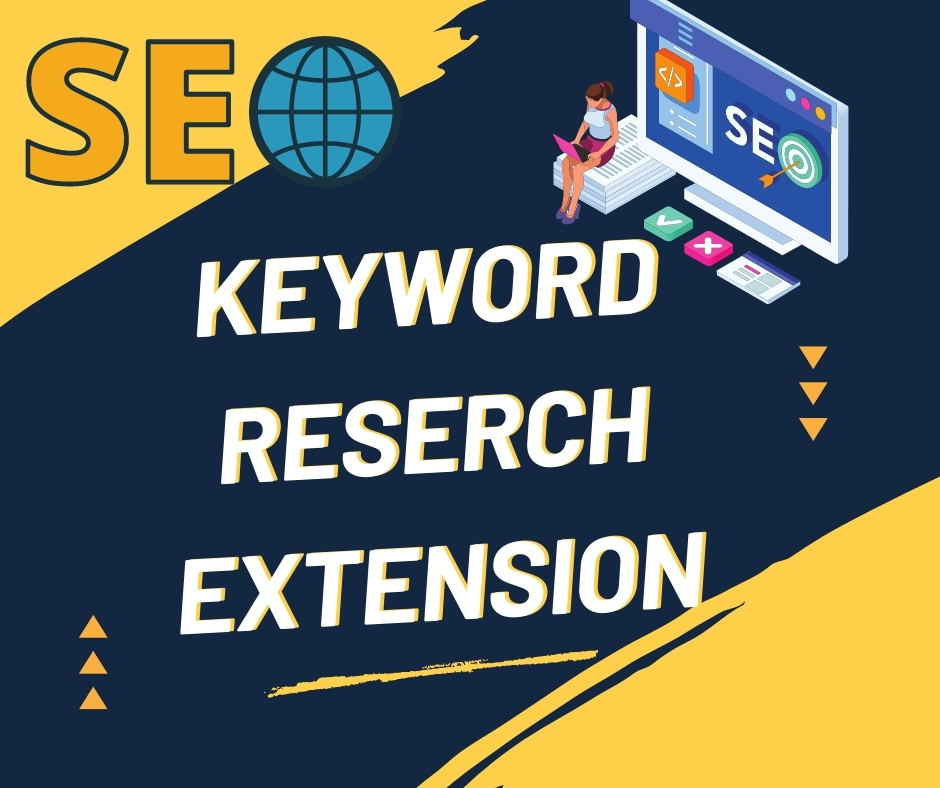 5. Email Marketing Extension for Gmail -Gmass
Extension number five in our top chrome extensions list is the Gmass. The Gmass is simply a small application, an extension that will turn your Gmail account into an email marketing application. Once you install the Gmass extension, you can see an additional "Gsend button" once you compose an email. If you click the button, you will see that you can personalize emails or add a follow-up schedule. You can also use it to send cold emails and create a sequence. It's like a full email automation software inside Gmail. it's a perfect solution, especially for cold email marketers. You can start using Gmass totally for free
6. Check Website statistics – Similar Web
The Similar web is an extension that is used to check the statistics of any website. if you are surfing any website and want to check how many users visit this website or what is the website rank, Similar web extension provides you with all the information.
It will give you a small or a brief about any website, the global rank, the country rank, the traffic over months, the bounce rate, the geography, the top traffic sources.
This is really very important especially if you are checking the authenticity of a website or want to see if it's a valid website or if you are a content creator and doing an analysis of your competitors.
7. Perfect Web Manager -Notion Web Clipper
Best Chrome extension number seven is notion web clipper. The notion web clipper is a great application to manage everything in your online life. It helps you to save anything from the web like an article or a link which you can view later on. For example, if you are searching my website, you opened an article and you liked it, you want to save it and review it later you can simply go to notion web clipper and save the page.
8. Best Colour picker Chrom extension – Colorzilla
The next extension lets you copy the colour from any website which is very useful for graphic designers and website builders that are aiming to include a particular colour in their design.
If you are surfing my website again and want to copy the colour, choose Colorzilla and you click on pick colour from the page. you can now move the cursor and you can get any colour on the page. this is really awesome if you are designing a blog or a website and you like a colour and you don't know the colour code or the RGB combination or whatever you can simply click here on this and you will get this colour you can copy it and paste it on your website really it's very useful especially in designing the landing pages of your website.
9. Font detector Chrome extension – What Font
Extension number nine is called what font and is used for detecting the fonts on the pages. If you are surfing a website and you want to know the font used, you can simply open your "What Font" extension and see the font information like the font family, the size, the weight and other information which can e useful if you are planning to use the same font.
10. Best Website Backend detector extension – Wappalyzer
The last extension on our top 10 chrome extensions list is called Wappalyzer. Wappalyzer is a great extension to know what technologies are being used in the website and what are actually applications installed at the backend. So, it is used to analyze the backend of any website like what plugins are being used, whether it's a WordPress or Wix website and what is the server etc.
FAQ
How can you check the backend applications on a website?
You can install a chrome extension like the Wappalyzer that provides all information about the backend of a website like what server the website is using and applications installed at the backend.
How to know the font and colour a website is using?
You can use extensions like Colorzilla to copy a colour from any web page and What font chrome extension to get information about website fonts.
How to check if the website is legit?
You can install a chrome extension called similar web which provides information about the website like the number of average users, geographical information and website rank.
What is the best Spell-checker for Chrome?
Grammarly is the best spell and grammar checking extension for chrome which you can use for free.
Disclaimer
The Post is only the views of the author and should not be taken as legal or financial advice.