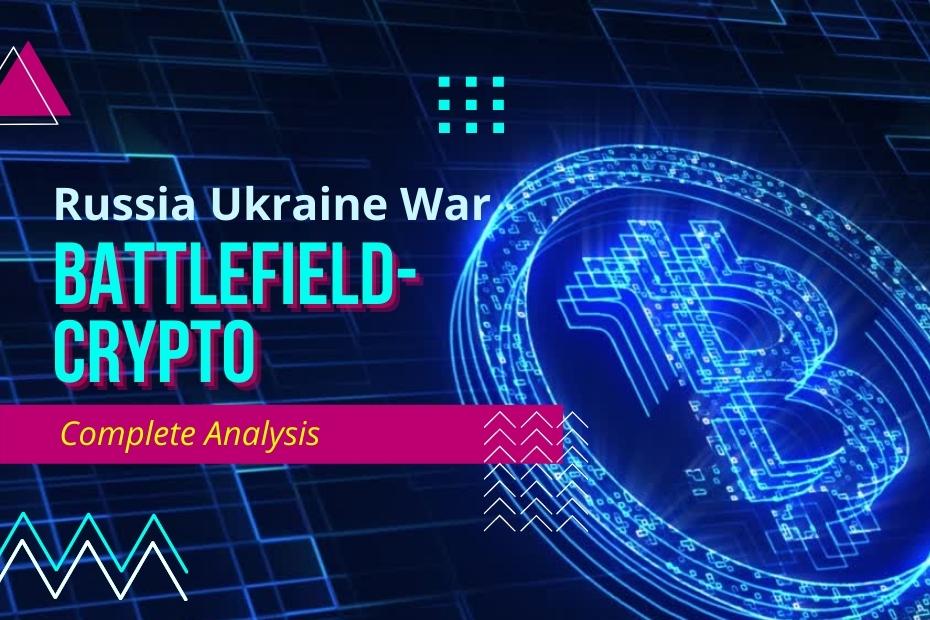 The war between Russia and Ukraine is not only being played in the field. Crypto is playing an important role in the main battle. For the first time in history, the individual donor can participate directly in the battlefield crypto Russia Ukraine by directly donating to the countries.
The Ukrainian Government has received more than 26 million in crypto since Russian invasion and the number of crypto projects supporting Ukraine is increasing day by day with their crypto donations.
Role of cryptocurrencies in the war between Russia and Ukraine
Before Cryptocurrencies, people and countries had to go through the normal banking channels to donate to a country to support them. Now, this practice had major issues. which are as under:-
1. Banking donations are traceable
The banking channels are traceable. The money you donate to any country or purpose can be directly traced to the source bank account. so, you can not anonymously donate for any purpose or to Ukraine in the war.
2. Banking transaction delays
The second major issue is that the banking transactions require some time to process. If you are talking about inter-country donation that may take up to several days.
Why donate crypto to Ukraine?
Ukraine is under attack from Russia. So, Ukraine doesn't have time to wait for the transactions to process. Crypto provides an opportunity to donate money to Ukraine fast and anonymously. The crypto you donate to Ukraine will immediately be credited to Ukraine. Moreover, complete transactions will be anonymous on blockchains. So, the transaction holders will not be traceable by Russia or his friends.
This is now the future. When WikiLeaks funding was stopped 10 years ago, crypto saved the day. Similarly, now crypto donations in Ukraine are creating a new history and we are coming one step closer to Web 3.0 realization.
Russia crypto reliance
US has placed financial restrictions on Russia. However, Russia may utilize crypto to evade financial sanctions. Crypto provides alternate methods to Russia to go around the sanctions to keep the economy afloat.
Ukraine asks for ban on Russian crypto wallets
Ukraine has asked the crypto exchanges to block transactions of Russian crypto wallets. However, crypto exchanges are still deciding on whether to do it or not. However, if they do it it will expose the shortcomings of having a wallet on an exchange.
How to donate Crypto to Ukraine?
There are three ways to donate crypto to Ukraine. Ukraine asked for crypto donations through an official tweet and people have been very forthcoming in donations to the cause. There are various projects through which you can directly donate crypto to Ukraine.
Binance Setups charity to donate crypto to Ukraine.
Donate crypto to Ukraine with UkraineDAO
Ukraine Crypto wallet address – Directly donate
Binance Setups charity to donate crypto to Ukraine
Binance has set up a site for Ukraine crypto charity. Ukraine relief fund has been set up to donate to Ukraine. The amount will be directly donated to on-ground humanitarian organizations. Binance has pledged $10 million for Ukraine. $6 Million have already been raised for the cause.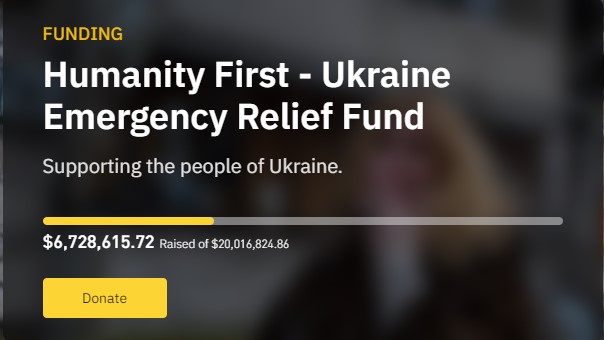 You can click on donate to directly donate crypto to Ukraine.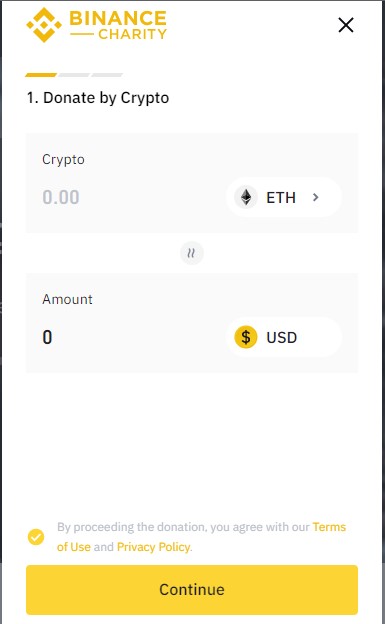 Donate crypto to Ukraine with UkraineDAO
UkraineDAO has been created by Alona Shevchenko in raising funding for the Ukraine army. The DAO has collected over $3 million for the cause. You can visit the site to donate to Ukraine in crypto. The DAO provides two methods to donate to UkraineDAO.
Directly donate to UkraineDao.eth
You can buy the love token and participate in bidding
Ukraine Crypto wallet address – Directly donate
You can directly donate to Ukraine with transferring amount directly to Ukraine official crypto wallets.
Ukraine tether crypto wallet address – 0x165cd37b4c644c2921454429e7f9358d18a45e14
Ukraine Bitcoin Address – 357a3So9CbsNfBBgFYACGvxxS6tMaDoa1P

These crypto addresses have been posted directly by the official Ukraine twitter handle.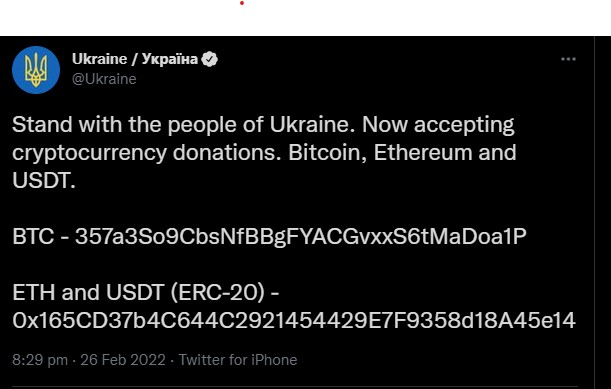 FAQ
How to donate crypto to Ukraine?
You can directly donate crypto Ukraine to the official crypto wallets which have been declared by their official tweet. https://twitter.com/Ukraine/status/1497594592438497282. You can also donate with Binance charity or UkraineDAO.
How much crypto donations have Ukraine received?
Ukraine has received approximately $26million dollars in crypto since the invasion started.
Can Russia evade sanctions with crypto?
Yes, Russia can use crypto as buying power to evade financial restrictions. Crypt transactions are not controlled by anyone so they can not be blocked.
Have crypto exchanges blocked Russian crypto wallets?
No, crypto exchanges have not yet blocked the wallets of Russians. Blocking the wallets will result in highlighting the issue of keeping wallets on exchanges.
Disclaimer
The Post is only the views of the author and should not be taken as legal or financial advice.