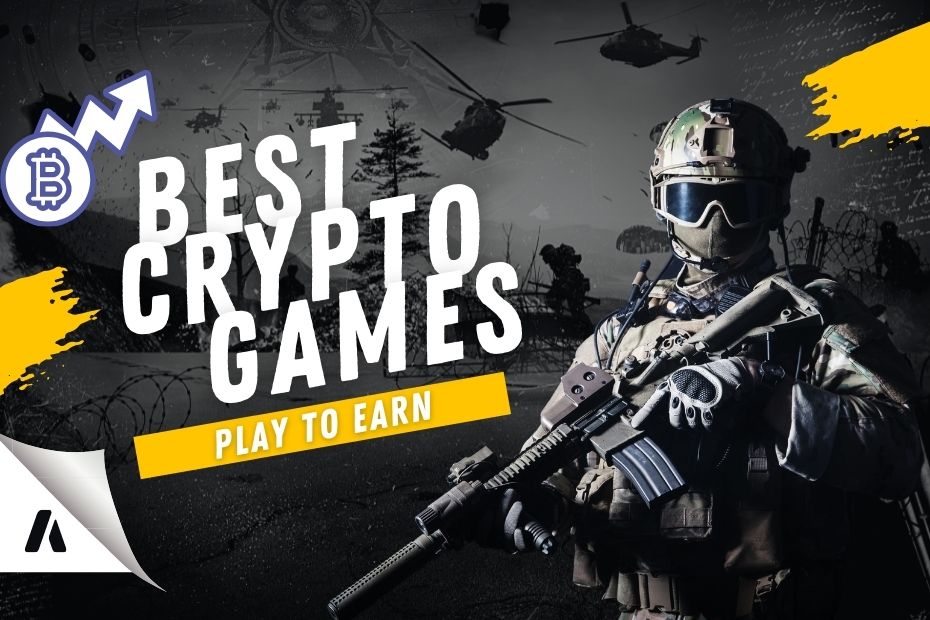 Crypto Games utilize ever-growing blockchain technology to include play to earn items that are not only valuable in games but can also be cashed out for real fiat money. The role of NFTs is also increasing in the gaming industry where NFTs that are earned inside games are permanently owned by the player.
Gaming is one of the largest industries in the world. Only in the US, the value of gaming industry stands around 90 Billion US dollars. Only in January 22, Americans spent 390 million dollars on gaming hardware. This is going to increase in the future, especially after the NFT boom, the crypto gaming is going to be the next big thing in the gaming industry.
What are Crypto Play to Earn Games?
Crypto games are blockchain-powered games where players play and win to earn rewards in crypto. Crypto games have their own tokens which players can earn by completing in-game missions, completing quests, or defeating other players in the game. The tokens can be exchanged for other cryptocurrencies at major crypto exchanges.
Blockchains have introduced decentralization in gaming where gaming assets are no more controlled by gaming companies instead they can be fully owned and controlled by the players themselves. Gaming studios and creators used to have full control over in-game assets. Now with NFTs, players themselves have the ownership, they can sell the NFTs and tokens they earn within the game and earn money.
How to earn money with crypto games?
There are two ways that can be used to earn with crypto games. By earning gaming tokens and then trading them for other cryptocurrencies. Secondly with NFTs. You can sell NFTs earned within the game or if you are a designer you can create NFTs and sell or trade them within the game.
Top Gaming Tokens
Most of the gaming is based on tokens based on Ether. The crypto games mostly require you to buy some tokens or NFTs to join the games. The top 3 gaming tokens as per the volume are Decentraland MANA, Sandbox SAND and Axie Infinity AXS.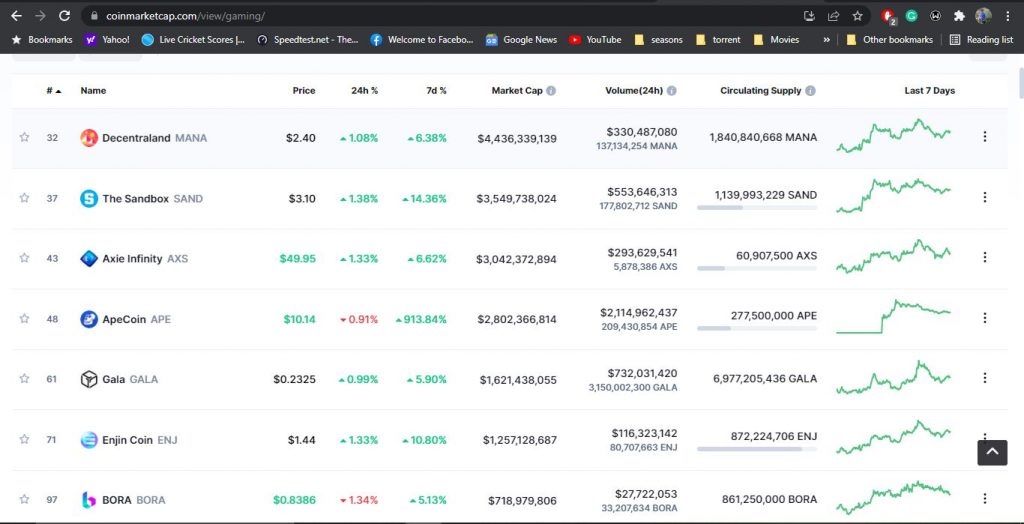 Are play to earn Games Legits?
Yes, there are legit play to earn games where gamers can win in-game NFTs and tokens which can be traded on crypto exchanges for other cryptocurrencies or FIAT currencies. But there is a smart trick. To play a crypto game, you may need to pay a little amount to buy its native token or NFT game characters which makes it not free to play.
Best Crypto Games to earn Money -2022
There are multiple crypto games available in the market. Some of them are scams too. But a few have proven their worth over time and many players are earning full-time income from these games. Now lets see the top 5 crypto games for 2022 that are worth looking and playing for earning crypto currencies.
1. Axie Infinity
Axie Infinity is the most popular crypto game right now with more than a 2.5millon active users. The game is based on pokemon like characters call axies. You must first purchase 3 axis to join the game which may cost around 100 dollars. Axis are NFTs that can be traded and upgraded. Players are required to breed their axis with SLEP tokens that can be bought or earned in-game. Players fight their axis and earn rewards for the win. Axis is providing a complete source of earning to some players and is very popular in countries like the Philippines after the COVID pandemic.
2. Decentraland
Decentraland is an open-world game where players can buy the land and build on it. The game is like Minecraft of blockchain where players can build on their purchased lands and sell their creations. The players buy their piece of land in-game and then decorate it as they like. Many big companies are showcasing their products within Decentraland including Atari and Samsung. The game's token is called MANA and players can use it to sell or buy items in the Decentralnad marketplace.
3. Sandbox
If you are not fan of Decentraland, Sandbox is another open world crypto game. Open world crypto games are being considered as the first milestones in metaverse gaming. In sandbox, you can buy a piece of land then can build anything on it. Sandbox is especially becoming popular in artists where they can hold their virtual exhibitions and sell their art or product as NFTs. Sandbox native token is called SAND which can be used to buy and sell NFTs or items within game.
4. Mobox
Mobox is not a single game but an NFT based gaming platform. Mobox offers now five free to play crypto games that anyone can play and earn money within the game. Mobox has emerged as a platform where NFTs can be used within multiple games which increases the value of NFT assets many fold. There are more than 150,000 active players on the platform and the platform is working hard to attract more game developers and players to the platform. There is also a module for creating and minting NFTs where players can create their own NFT assets and use them in-game.
5. Crypto kitties
Crypto kitties is one of the oldest crypto games. In the game, you collect and breed your kitties. Kitties are based on NFTs. So, they can be sold earning profits. crypto kittens is a very popular game on Ethereum blockchain but buying new kittens is expensive but it has a high turn over reward. The price of a crypto kitten may go up to 100,000 dollars. You breed your crypto kittens and multiply the population.
FAQ
Are crypto play to earn games legit?
Yes, many of the crypto games have established themselves as legit play to earn games. For example many people have adopted axis infinity one of the most popular crypto game as their main earning source.
Hoe crypto play to games work?
The crypto play to earn games have their assets defined as NFTs. You can win the assets or create new NFT assets in game. The NFT assets can be traded on in-game market to earn money.
What is the best free to earn crypto game?
Mobox is a free play to earn gaming platform. It currently has five games. Players can join the games and earn in-game NFT assets which can also be used in other games. It also supports creating new NFT assets which can be traded or sold.
Is Axis infinity free to play?
No, you need three axis to join the game which may cost up to 100 dollars. But you may ask some friends for a gift axis or join a bid to acquire the already bread axis.