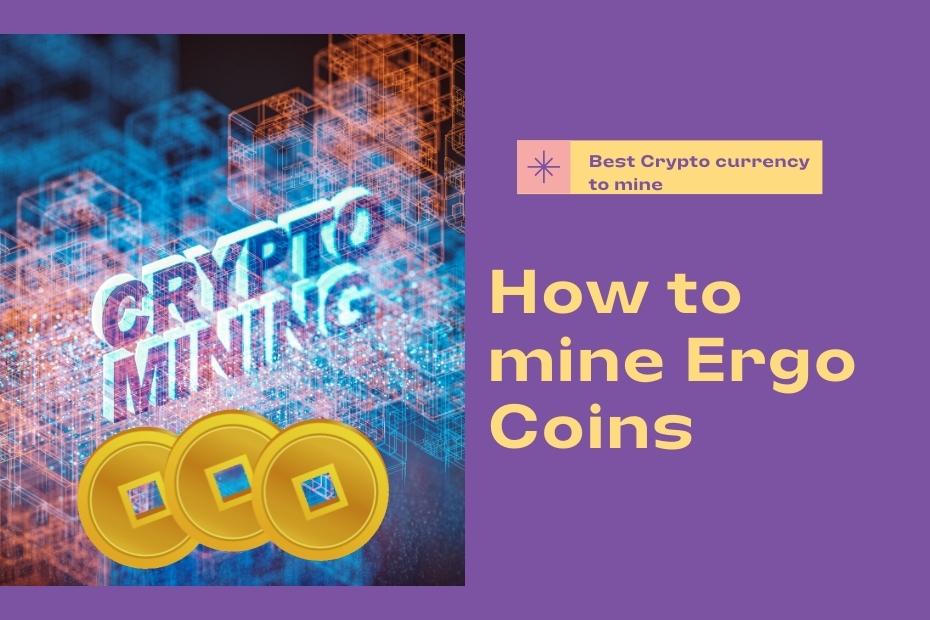 Best cryptocurrency to mine
Crypto has taken the world by storm during the last decade. While it was being considered that crypto will be dead, it again took a high stride last year.
Ergo is becoming the best cryptocurrency to mine. Ethereum has been the number one choice of crypto miners especially those mining on GPUs. However, it is expected that it's going to change soon. Ethereum is due for a major update and miners are slowly shifting towards Cardano and Ergo mining due to less computational power involved.
Last year the price of one ergo coin was around 0.25 dollars, now in August 21, it is around 8.5$.
Why Mine Ergo Coin
There are very distant advantages of mining Ergo coin which are as follows:-
The hash algorithm is relatively less complex
The Ergo coin is mineable even on less powerful GPUs and is supported even by 4GB Graphic cards.
The profit margin is more relative to cost effect (electricity, system cost, etc)
How to choose cryptocurrency to mine
Profit margin vs upfront and running cost is the number one factor of choosing the best crypto. To select the best cryptocurrency to mine you can use a tool called "Whattomine". It can help you to choose the best cryptocurrency to mine by analyzing your GPU, electricity factor, etc.
If you have a good ASIC miner then Bitcoin Mining may be more profitable for you. But if you have an entry-level machine, Ergo mining will be a better choice.
Road Map- How to start mining Ergo Coin
In this post, we will see the step-by-step process of mining the Ergo coin. We are going to learn that how it is so much easy to start mining ergo coin with a low-end PC and if we like it, we can scale it with a mining rig in the future.
We will the following steps for mining Ergo Coin:-
Get an Ergo Coin Wallet
Join a mining pool for Ergo Coin
Get an Ergo miner
Configure the Ergo coin Miner and start mining
Monitor system temperature
Track crypto mining progress
How to Mine Ergo Coin
Step-1 Get an Ergo wallet
In order to mine Ergo Coin, we need an Ergo wallet. A wallet is a place to receive Ergo coins when we earn them by mining and safely store them. We are going to use a simple online Ergo Wallet called "Yoroi Wallet" for this tutorial. This wallet is very simple to use as it's a simple browser extension that can be installed in chrome or firefox Browser. It's a very popular wallet to store Cardano and Ergo coins.
Download the Ergo Wallet Extention
Visit the official website of Yoroi Wallet. Click the download button on the home page and it will show you different supported browsers. It can be installed on any smartphone or directly in your browser as an extension. For, this ergo mining tutorial, I am going to use a chrome extension wallet.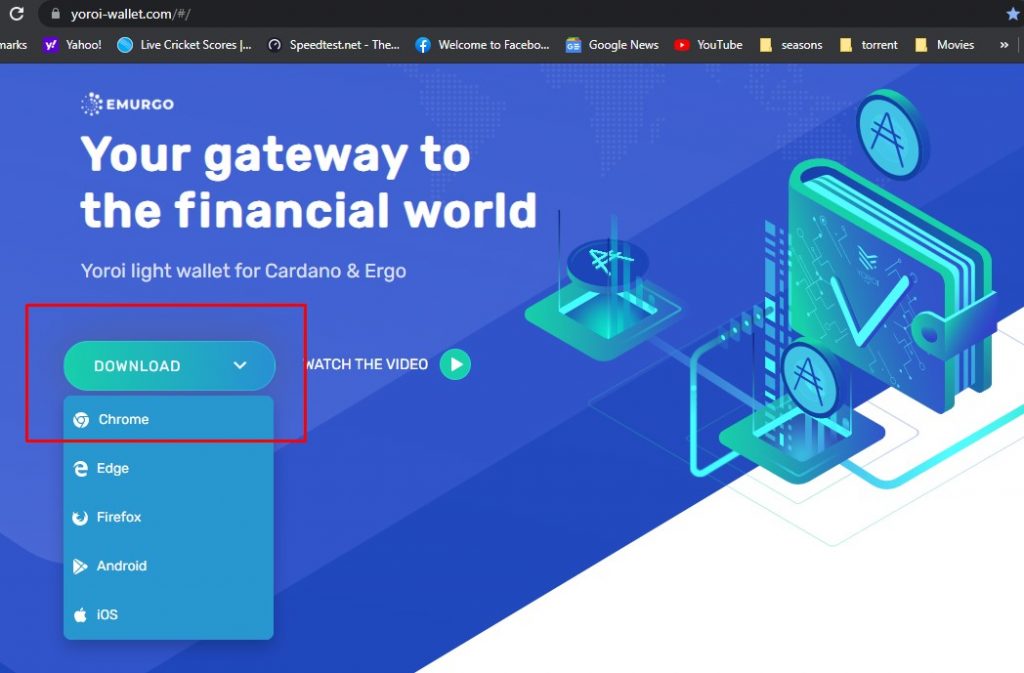 Create a new Ergo Wallet
Once you have installed the extension in your chrome browser, go to the Yoroi plugin and click on it. Here, you can create a new wallet. Just choose to create a wallet and then select the cryptocurrency as Ergo Coin.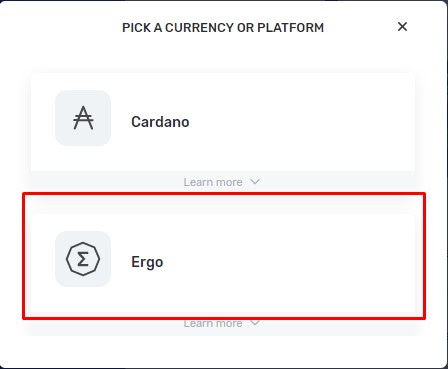 Enter the wallet name and create a password for your ergo wallet. Now, it will show you a recovery phrase. Make sure to take a screenshot and save it in a secret and secure place because if you lose this, you can not get your Ergo coins back. You can use the snipping tool to take a screenshot of the recovery phase. Now your wallet is created and live.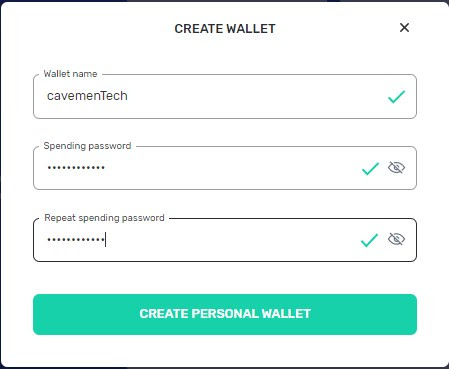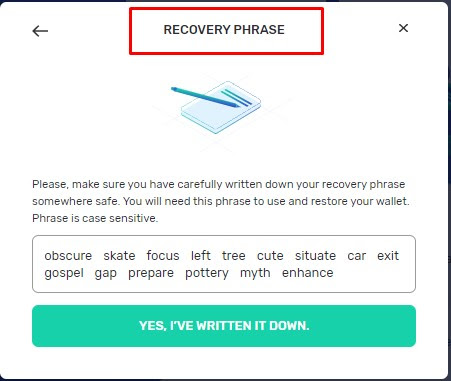 Get Ergo Wallet Address
We have now created an Ergo Wallet. We now need it to address where we can send the coins we mine. Simply go to the receive section and you will have your wallet address.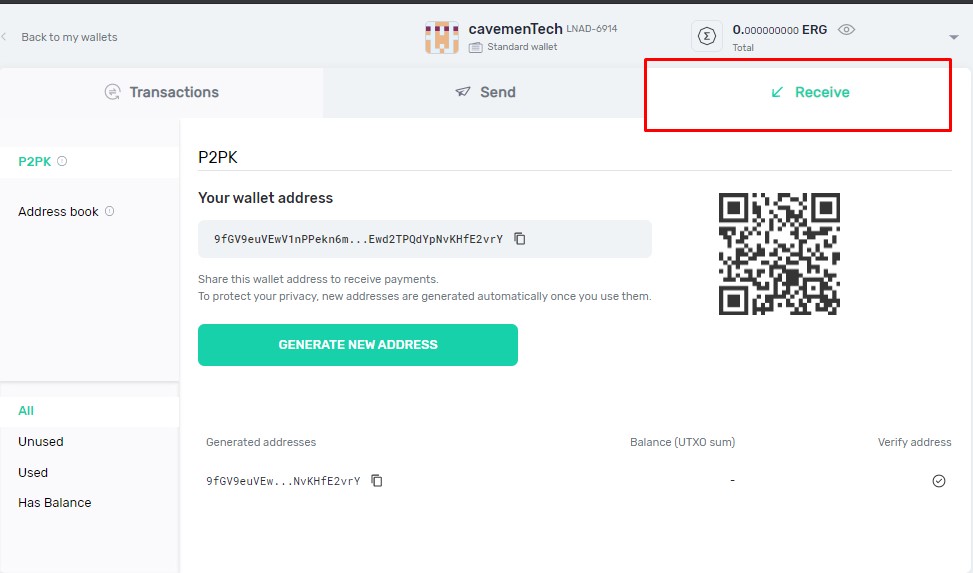 We have completed our ergo coin wallet setup and now let's move to joining the Ergo mining pool and getting the ergo Miner.
Step-2 Join an Ergo Mining pool
We are going to join an Ergo Mining pool and use the Nanominer to mine Ergo Coins. Visit the official website nanopool.org. Nanopool supports mining Ethereum, Ethereum Classic, Zcash, Conflux, Raven, Monero, and Ergo coins.
Nanopool has a quick start guide to start mining the cryptocurrency of your choice.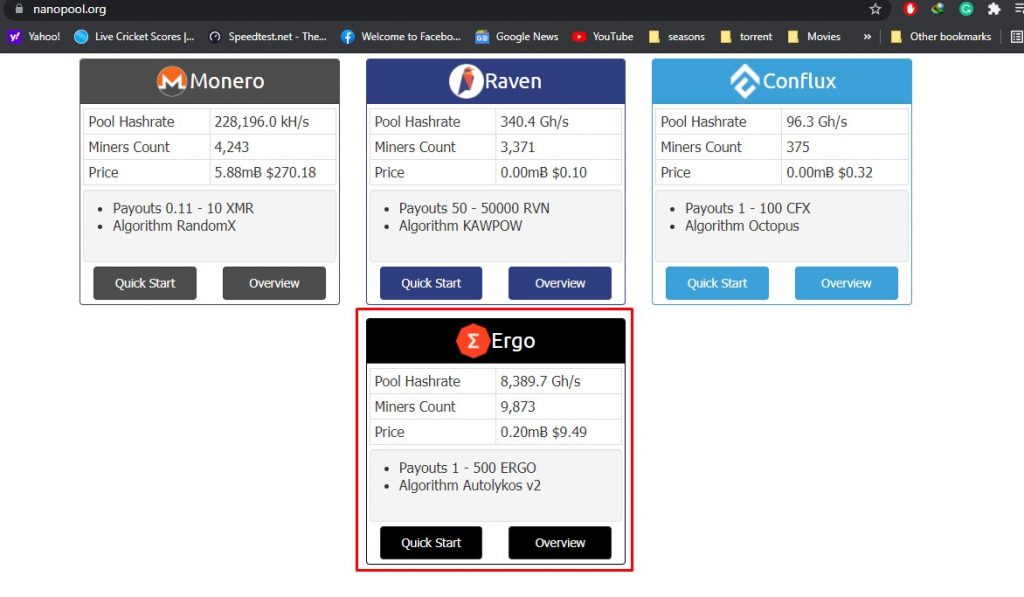 Before starting ergo mining, let see what is the difference between pool and solo mining?
Crypto pool vs Solo mining
In Cryptocurrency mining, mainly we have two types i.e. solo mining and pool mining. In solo mining, you will mine alone competing with a lot of pools and miners all over the planet and it's somehow impossible to get a reward and earn cryptocurrency with solo mining except if you have a very large infrastructure of rigs and servers.
If you have a mining rig or a good gaming pc and you want to start mining, you will have to join a pool of miners which is simply a group of miners working together so they have a bigger chance to get the earn the crypto while mining and you can earn a portion of the reward.
So in short, pool mining is a group of people mining together and in solo mining, you are mining alone.
Step-3 Download an Ergo Miner – Nanominer, A Crypto Mining app
Visit Nanopool's official website and click Select Ergo Coin Quick Start. Select the option for downloading Nanominer. Nanominer has different versions for Windows and Linux. Moreover, if you have an NVIDIA graphic card there is a specialized Cuda version. So, download the Nanominer version that is best suited according to your system specifications.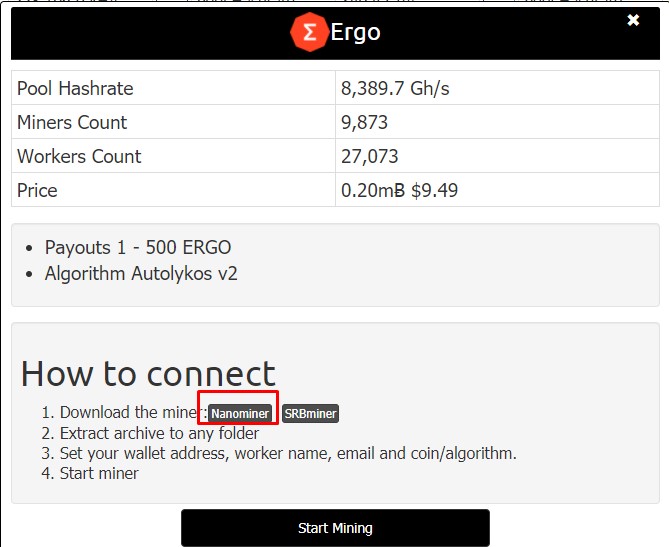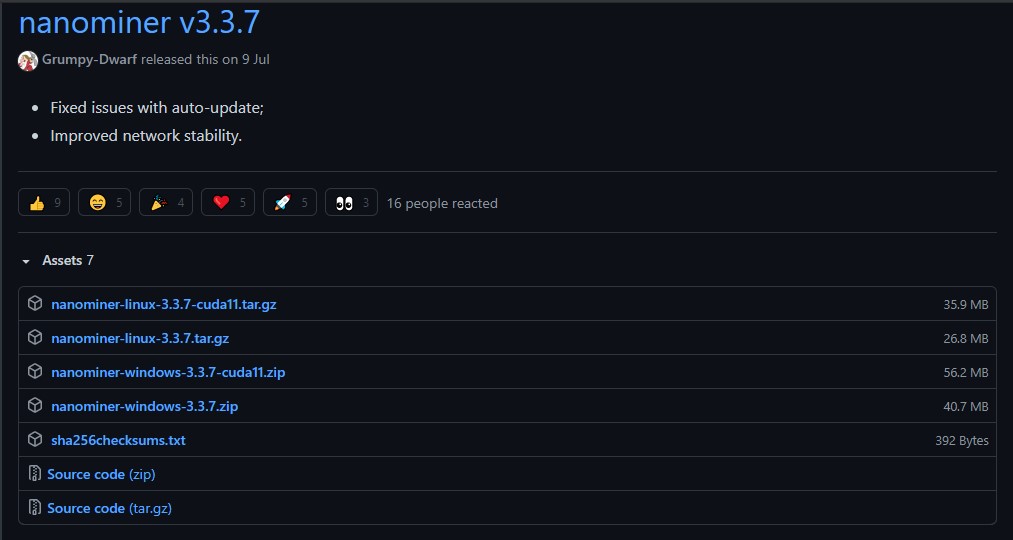 Nanominer will be downloaded as Zip File. Simply, extract the Nanominer at a suitable location. Now we are required t configure two files which are as follows:-
Config File
Config Ergo File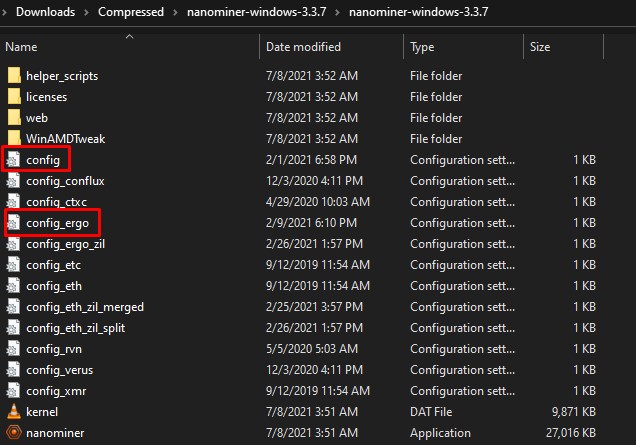 The crypto-miner configuration is very simple and does not require any coding skills. Right-click on the config file and open it in a text editor. Now you need to edit only four lines:-
Replace the wallet address with the wallet address that you got from Step-1. This will be the wallet address where we will receive our ergo coins as a result of mining. So, ensure that it is properly copied.
Add a rig name which is how we are going to identify our Ergo mining PC in our dashboard.
Add a line Coin=Ergo. It will tell Nanominer that we are interested in mining Ergo coins.
Enter your email address. This email will be used as a login for the Ergo mining pool to see your earnings and configure your miner. So, make sure to use a correct email address
Now save the file. You can copy the configuration from below but make sure you replace the wallet address with your own wallet address.
Config File
wallet=9fGV9euVEwV1nPPekn6mJpTFNoCkjBCEwd2TPQdYpNvKHfE2vrYRIGNAME=cavemenTechcoin=ergoEMAIL=contact@ammarhassan.me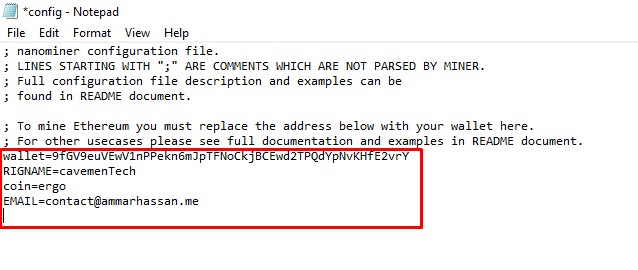 Now open the ergo config file in notepad. Here we have to again specify the wallet address, coin name, and Rig name. So, copy the following code in your Config Ergo file
Config Ergo File
wallet=9fGV9euVEwV1nPPekn6mJpTFNoCkjBCEwd2TPQdYpNvKHfE2vrY
RIGNAME=cavemenTech
coin=ergo
Start the Ergo Miner
The configuration is now complete and double click the Nanominer to run the Nanominer. The Ergo miner will start connecting to pools and your pc will start mining ergo coins.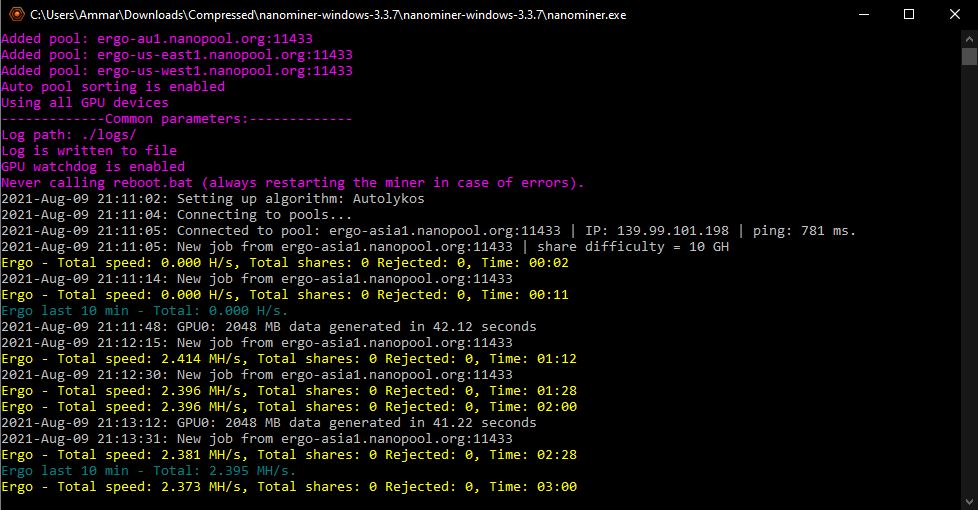 Step-4 Monitor system and GPU temperature
Crypto mining is a resource-intensive operation and results in an increase in CPU and GPU usage. To monitor the GPU temperature, you can install an application like MSI afterburner. it's a free application and you can run it to monitor GPU memory, voltage, temperature, etc.
Bonus Tip
Always make sure that your GPU temperature remains below 75 to be on the safe side and save GPU from damage.
Step-5 Track Ergo Coin mining progress
To track your Ergo coin mining progress, go back here to Nanopool . Enter your wallet address and you can monitor the ergo coin mining progress here. However, the stats will start appearing in 30 minutes to one hour after you start mining Ergo coin.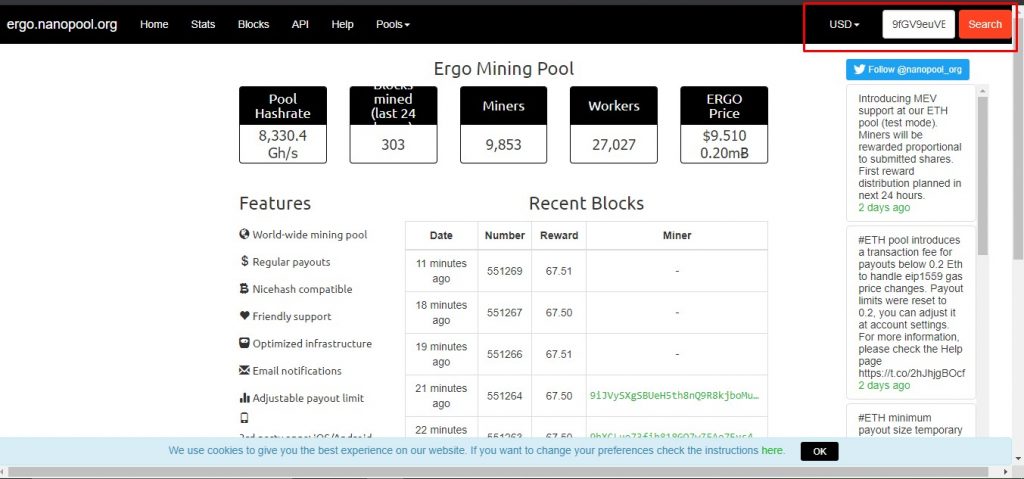 The minimum payout at Nanopool is five Ergo coins. So, you have to earn five Ergo coins to get your coins transferred into your wallet. But you can change this from settings by entering your email address and you can set it to as low as one ergo coin.
Summary
So, to mine ergo coins, you need to have an Ergo coin wallet. Then you can join a pool like Nanominer and start mining. Ergocoin mining is quite profitable especially if you have a low-end machine laying around as a spare. Mining is a good way to earn extra money without investing your own money in crypto.
If you are interested in other methods to earn money with crypto without investment, you can check the best crypto affiliate programs to earn money.
FAQ
What is the best cryptocurrency to mine in 2022?
Ethereum has been the number one choice of crypto miners but Ergo and Cardano coins are expected to be more profitable in near future after the latest Ethereum update.
What is the best cryptocurrency to mine on a 4GB graphic card (GPU)?
Ergo is an excellent option for mining on low-end PCs and 4GB graphic cards due to the low complexity of hashing algorithms.
What is a crypto mining pool?
A Crypto mining pool is simply a group of people mining together to increase the chances of mining cryptocurrency and increase profitability. 
How can I mine Ergo coins?
Ergo coins can be mined by joining a cryptocurrency pool called Nanopool and downloading their ergo coin miner app.
Disclaimer
The Post is only the views of the author and should not be taken as legal or financial advice.