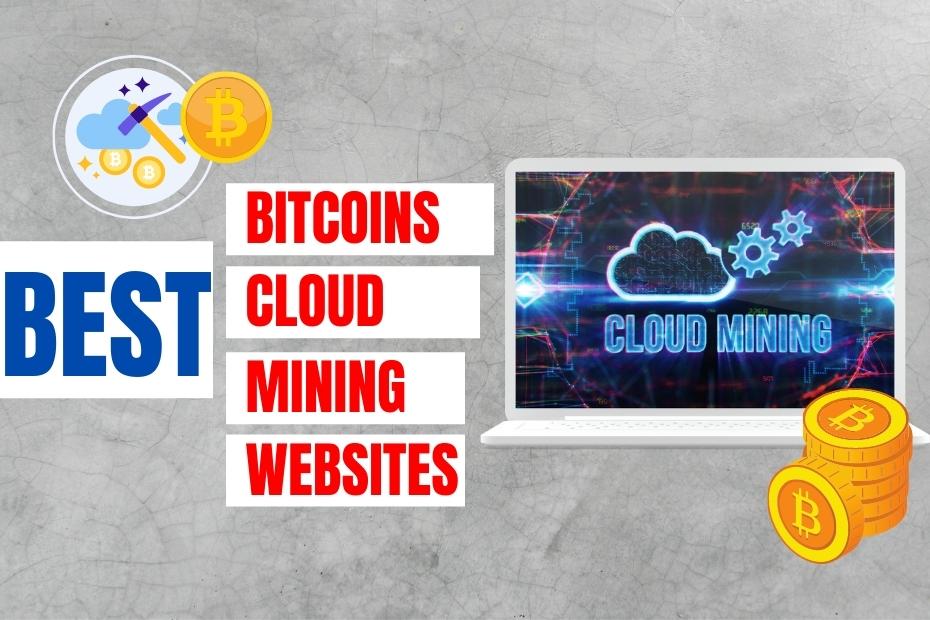 Bitcoin Cloud Mining
Mining bitcoin and other cryptocurrencies can be a bit of a commitment. You have to purchase powerful and expensive hardware, set it up to be running 24×7 using substantial electricity and you also have to deal with the excess of heat. But what if somebody else could do all this for you. Well, that's what cloud mining basically is. You rent hash power from a company that's mining cryptocurrency on your behalf. In this way, there's no need to purchase or maintain expensive hardware or deal with the energy costs. Cloud mining's been around for several years but not every service is the same. In this post, we will be covering some Basic questions about cloud mining and then see the top recommended companies for cloud mining that you can join today. Some of the questions that we will try to answer are as follows:-
How does cloud mining actually work?
What are the pros and cons of cloud Mining?
Who are some of the companies offering these services and what cloud mining services are legit?
is Cloud mining ultimately right for me and if this is a good investment?
By the end of this post, you should have a pretty firm grasp on what cloud mining can offer and at least some idea of whether or not you want to get involved so with that let's just go jump right into the topic.
What is Cloud Mining
Cloud mining is renting processing power to miners for crypto mining. Companies will set up massive mining farms, much larger than anything an individual could ever hope to do. Then they'll begin mining bitcoin or another cryptocurrency using these systems and rent out the processing power to miners.
Once operational these companies can then offer contracts to potential customers who can purchase a percentage of the hash power for a fixed period of time and subsequently earn the cryptocurrency mined on the company's own machines. 
Those running the operation handle the maintenance and housing so, you can expect to see that reflected in the price of each package. still, there shouldn't be too much more for the consumer to do than pick out a plan, make the payment and start directing the returns to a specific wallet. Most of these contracts pay out regularly such as daily so that these companies can begin offering their clients the ability to start accumulating cryptocurrency almost immediately.
Pros and Cons of Bitcoin Cloud Mining
The benefits of cloud Mining are fairly obvious and we've already touched on them but not having to operate your own mining rig is definitely among the biggest. Not to mention setting up this type of system can be a bit of a technical endeavor and not everybody is tech-savvy enough or patient enough for it. This makes the idea of outsourcing the heavy lifting to a third party sounds like a great way to begin earning a slow income of cryptocurrency.
There can also be downsides for example many of the companies claiming to offer these services are in fact scams. They'll take your money, they may even pay out a little but they're Ponzi schemes. Instead of mining cryptocurrency, they're paying you out based on the money they're getting from other new customers. Once the well of new users dries up, they will very likely disappear with your money. This is why it's essential for you to do your homework, learn about the history of the company and see what the community is saying before you even think about handing them over your money. There can be another issue as well. Even for the offerings that are completely legitimate, depending on the terms, it can take many months or even years for a mining contract to become profitable to the user. Think about it these companies need to make a profit for themselves. They're taking on all the costs of operating the hardware so they're going to need to take a cut of anything they mine on top of your regular fee if they have any hope of coming out ahead. Furthermore, why would companies even bother selling hash power to consumers unless they knew they could make more money doing so than by simply mining the cryptocurrency themselves. Things like the hash rate of the network being mined as well as the value of the asset will play heavily here but the point is there's no guarantee that you'll come out ahead more than you would have by taking the same money and just buying the Crypto coin you wanted. That being said, every offering is different, so you'll have to go and crunch some of the numbers yourself to see if they make sense to you. If all this sounds intriguing and you'd like to start exploring these services themselves, there are multiple companies available right now that are offering to mine bitcoin and other cryptocurrencies on your behalf.
Best Bitcoin Cloud Mining Websites
If all this sounds intriguing and you'd like to start exploring these services themselves, there are multiple companies available right now that are offering to mine bitcoin and other cryptocurrencies on your behalf. Let's See our list of top highest paying Bitcoin Cloud mining websites
1. Genesis Mining – Oldest cloud mining Platform
Genesis mining offers gold platinum and diamond tier contracts as well as the ability for users to build their own custom contracts. The company's been around since 2013 and claims to have served some 2 million customers. So, there's definitely history on its side. One of the biggest advantages of using the site is that it offers to choose the payout cryptocurrency which means you can choose the currency in which you want to get paid.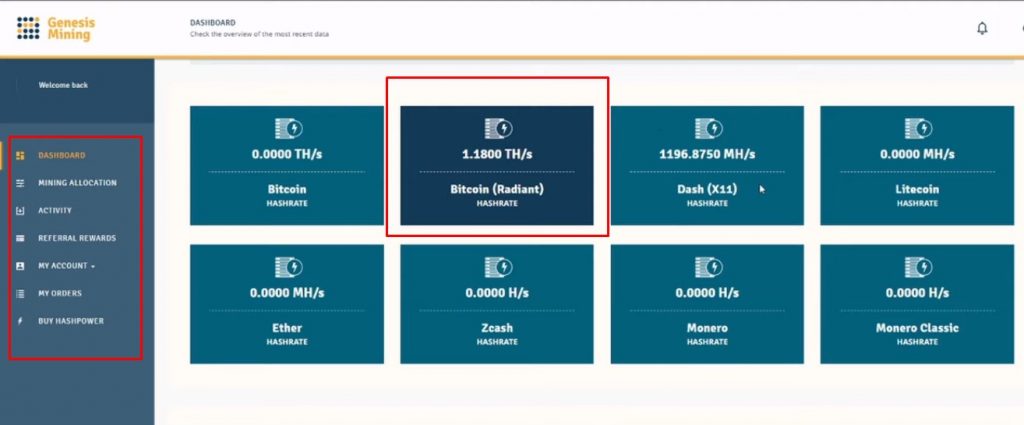 2. Hash flare – Best Legitimate cloud mining platform
Hash Flare is one of the oldest cloud mining service providers. Due to its popularity sometimes it gets out of stock of its mining contracts. But, if you get their contact, it is a perfect place to invest in cloud mining.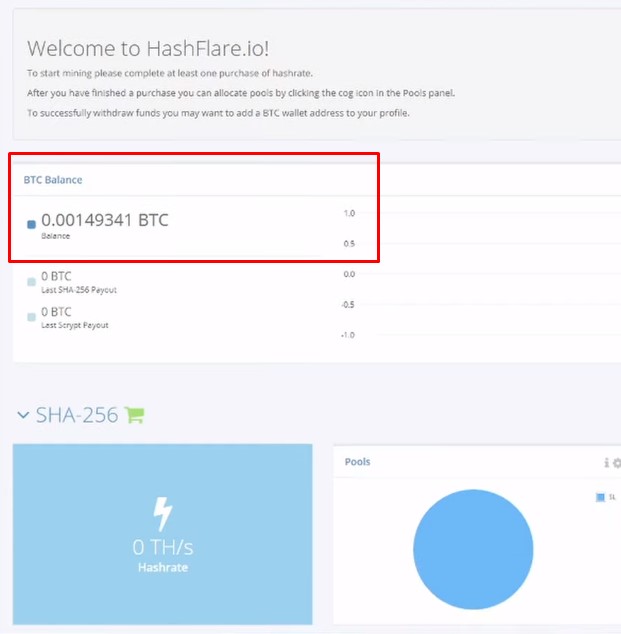 3. NiceHash – Open Market for Hash power
Nicehash offers the flexibility to purchase various amounts of hash power across a wide range of algorithms. It is an open market and users can also sell their unused CPU and GPU power in order to earn passive rewards which can, of course, be attractive to some users.
4. Shamining – Bonus Hash power for cloud mining
The "Shamining" lets you choose how much you want to invest. They have a fairly high minimum investment of about five hundred dollars but you can go all the way up to a twenty thousand dollar investment earning you about a hundred and eighteen dollars a day or forty-two thousand dollars a year. So, it does look like right now with the current markets you can just about double your money or a little bit more per year with your investment. But, of course, you do have to invest upfront. They have a 37 percent bonus of power running right now and currently, it is a contract for one year so after one year you will have to reinvest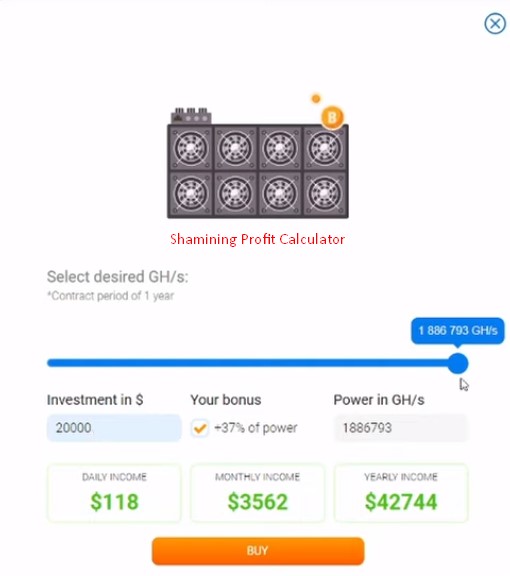 5. Ecos Cloud Mining – Free Hash power for beginners
Ecos is another bitcoin cloud mining site. They do give you a half Tera hash for beginning your account with them which is really cool as it gives you a little bit of a test and it is for 30 days. If we visit the buy hash rate page the site provides you a calculator of what you'll be making. You can drag different sliders and see how much you need to invest to make certain profits.  The minimum is $149 for just under one tara hash which let's say realistically if bitcoin stays right around fifty thousand dollars which is where it's at right now you will earn about eighty-one percent of your investment back so you'll get your investment and up to 270 dollars so that's not bad now. It also allows you to choose how many months of the contract you want. Obviously the longer the contract, the fewer Tera hashes you'll get for the same price. But, you will be earning more over those times for the same amount.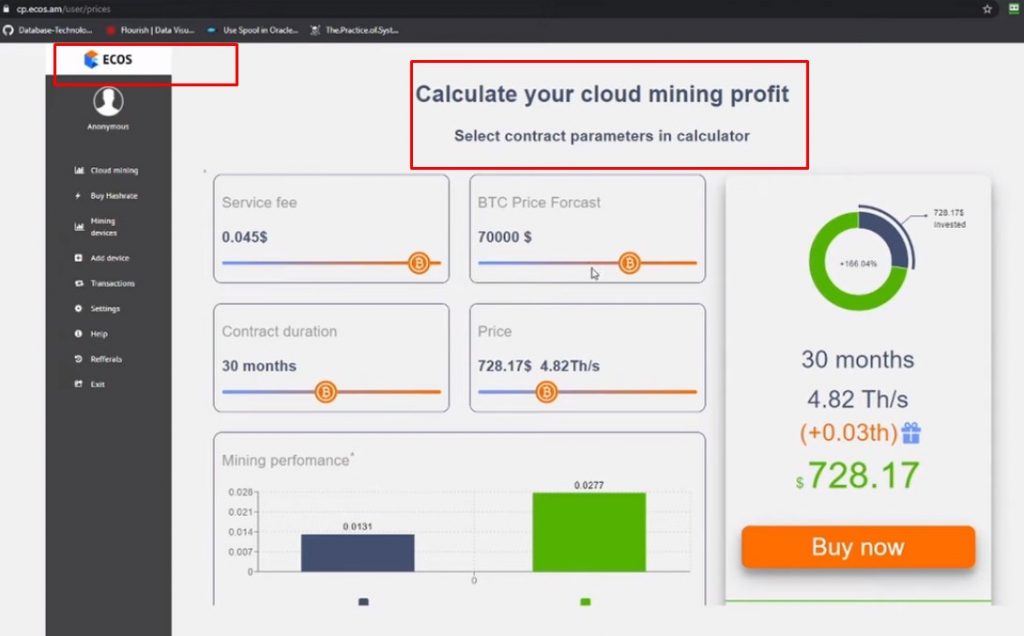 6. Stormgain – Bitcoin Cloud Mining offers
"Stormgain" is a Newcastle United shirt sponsor and the hottest upcoming exchange that allows you to trade up to 200x leverage on all the major cryptocurrency pairings by signing up for an account. Using the official app, you can begin cloud mining almost immediately and completely for free this makes "Stormgain's" offering ideal for those who are looking to start generating some crypto but don't want to put up any of their own money. So, if this sounds like the right option for you head on over to "Stormgain" and sign up for an account today.
You can also make money in Crypto without investing by joining Crypto affiliate Programs or by staking your existing Crypto holdings.
Is cloud mining right for me?
Now, once we have covered the basics of cloud mining. Now, it's time to answer the question is cloud mining right for me? potentially Yes. but of course, this is something that each trader and investor will have to answer for themselves. It's true that cloud money gets you involved in cryptocurrency without having to maintain your own systems but as mentioned it's often more profitable to simply invest in the coin you were going to buy the mining contract for this will give you near-instant access to the asset and you'll only be subject to fees at the time of purchase not ongoing every month. There are of course many other companies out there that we haven't covered some of which offer notably shorter cheaper contracts that allow you to mine for just a few hours or days these could let you get your feet wet and earn a bit of crypto but if you find they aren't profitable enough then your losses should be fairly small. Once again do your homework make sure you know who a business is and what are their contracts offering before you give anyone your money. Remember there are more scams out there than legitimate businesses. So don't be afraid to take your time.
FAQ
What is Bitcoin Cloud Mining?
Cloud mining is simply hiring resources from big companies owning large mining farms and paying them their infrastructure and service fees and utilizing their resources to mine Bitcoins.
Are Bitcoin cloud mining Sites legit?
There are some Bitcoin cloud mining websites that are totally legit. Genesis Mining has been in business since 2013.
Is Cloud Mining profitable?
Cloud mining may be profitable but you as an investor need to analyze the profits with the initial investment. 
Where can I sell the extra mining power of GPU or CPUs?
NiceHash is an open market where you can buy and sell hash power that can be used for Bitcoin Mining.
Disclaimer
The Post is only the views of the author and should not be taken as legal or financial advice.