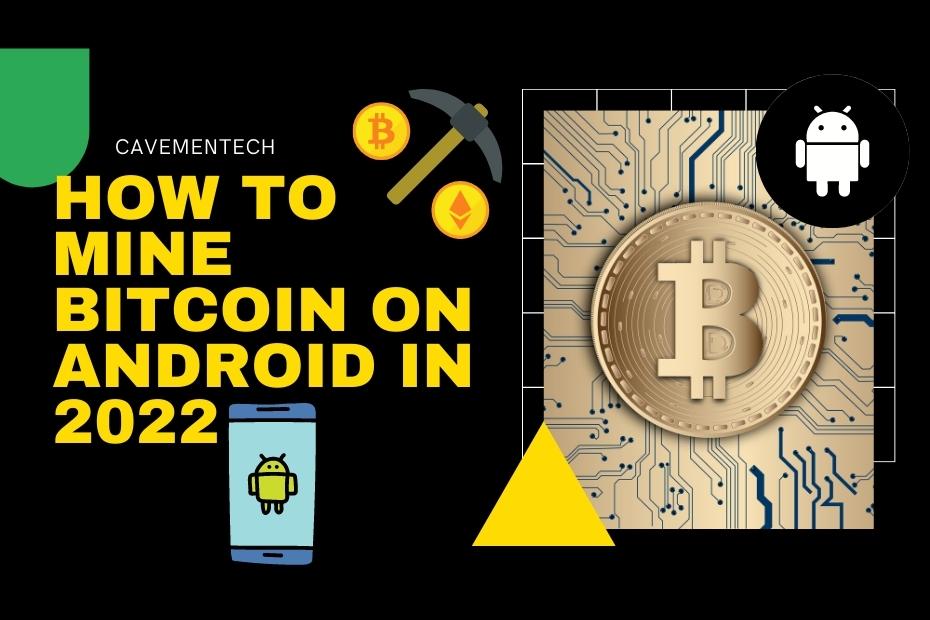 Bitcoin Mining on Android
In this post, we are going to discuss the legitimate method to mine Bitcoin on Android. We will walk through the complete tutorial and see the test results for Mining Bitcoin for 48 Hours. The Tutorial will be covered in the following steps:-
Download Bitcoin Miner for Android.
Withdrawing money to Bitcoin wallet from Android Miner.
Is Bitcoin Mining on Android Profitable?
Increasing Bitcoin Mining Profits.
Download Bitcoin Miner for Android
In today's tutorial, we are going to use an application called the Crypto tab. For this tutorial to work, you need a pro version of the application. You can test the application with its standard version as well. But, it will be too slow. The pro version for the application costs about 50 dollars. To download the basic version of the application, open the google store play store and search for the crypto tab browser. You will see we have the crypto tab browser here which costs around 60 cents. Go on and install the application.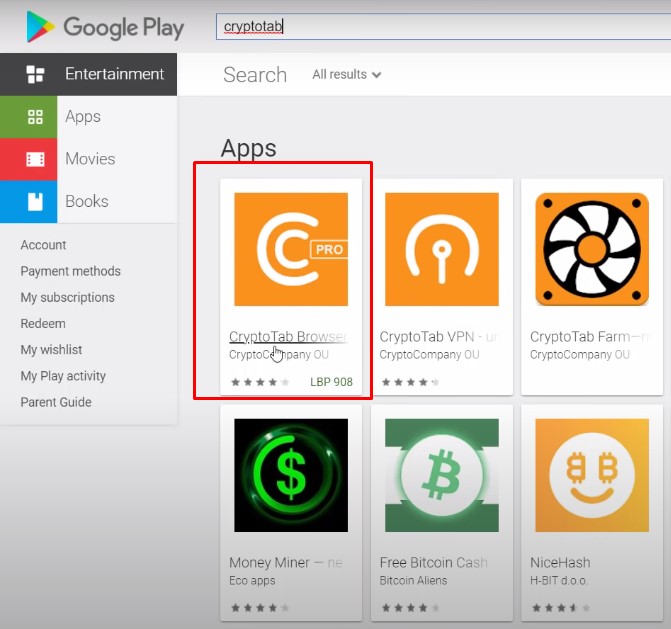 After you have installed the Bitcoiner miner application, open the application here and you will have the option to buy boosts to increase the mining speed. I recommend you to buy the 12x speed package which will cost you around 50 dollars.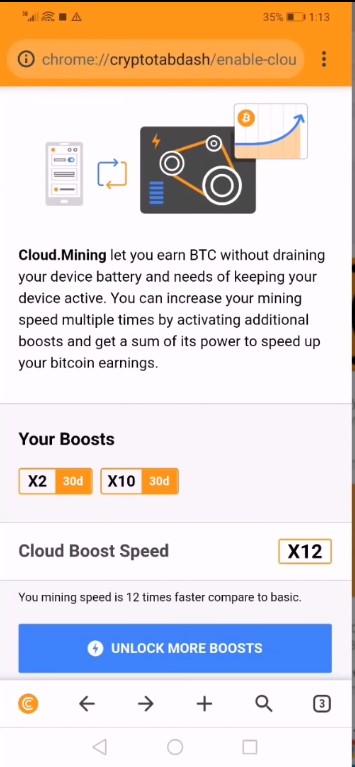 Bitcoin Mining Results on Android
We tried mining for 48 hours using the application. To see the mining results android, Click on the mining dashboard and you can see the results. In the last 48 hours, we mined  0.0000197 bitcoins which is around 1.1 dollars so, in 48 hours, we were able to mine 1.1 dollars in bitcoin.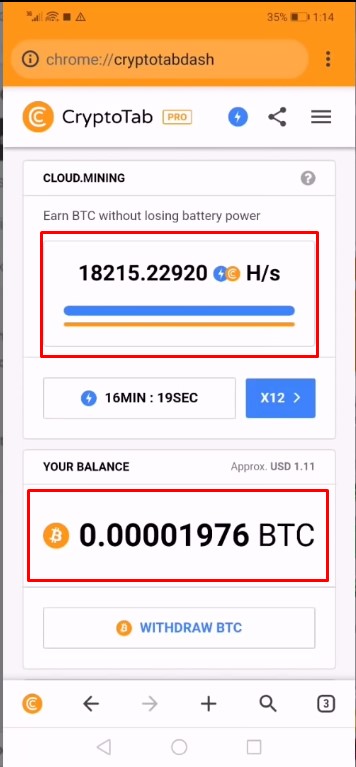 Bitcoin Mining Hashrates on Android
In the standard version of the mining app, by default, the hash rate is 1500 hashes per second but using the 12x boost speed the hash rate on the application increase to approximately 18000 hashes per second. So, these are the results that you can expect with Bitcoin Mining on Android with the crypto tab application.
Withdrawing money to Bitcoin wallet from Android Miner
To withdraw your Bitcoins earned from Android mining, click on withdraw bitcoin. You will need a Bitcoin wallet to get your earnings. You can get a free Bitcoin wallet from a crypto exchange like Binance or you can buy a hardware wallet like Trezor. To see other options for getting a Bitcoin wallet, you can check our Bitcoin PC Mining tutorial. Enter your wallet address and enter the amount you want to transfer to your wallet. Click on Withdraw. A confirmation email will be sent to your registered email address. Open your inbox and confirm the withdrawal. Once confirmed, it takes one business day to get your amount received in your wallet. if the transaction is successful, it will give a confirmation message.
Is Bitcoin Mining on Android Profitable
No, Bitcoin works on proof of work mechanism. You need some heavy processing power to actual earn some profits. The bitcoin mining applications for android are actually cloud mining platforms where your stake your holdings to earn a little profit.
The application with the cloud boost costs around 50 dollars. So, you need around 100 days to get back your money and then you can earn money and get more profit. So, it may not be as profitable to mine Bitcoin on your android phone. 
Increasing Bitcoin Mining Profits on Android
Now there are multiple ways you can increase your Bitcoin Mining Profits.
Install a Bitcoin Mining Browser
You can increase your mining profits by incorporating PC in your mining. Go to your pc and search for the crypto tab browser you can download and install this crypto browser on your PC. Just open the browser and log into the same Gmail account. The browser has inbuilt Mining capability and it will show you that you are mining on your PC as well. The hash rate for the browser miner is around two or three thousand hashes per second. So, in this manner, you can turn the browser on and start mining on the same account.

Join Crypto Affiliate Program
The crypto tab has an affiliate program. Go to the affiliate dashboard, you can get your link from there and share it with your friends. So, if anyone starts mining you will also earn a commission from his mining or her mining. So, in this way you can increase your earnings. There are also multiple other Crypto Affiliate programs that you can Join and earn money with your friends without investment.
Bonus Tip
The earning from mining is not much. But you don't have to look directly at your earnings and dollars. You have to think in a different way. You are mining crypto coins that you are investing in. So, maybe later on Bitcoin, Dogecoin or Ergo Coin that you are mining their price goes up and you can earn indirectly.
The Above mentioned method does not affect your mobile performance. It's actually mining in the Cloud. So, does not have any effect on the performance.
Pi Mining on Android
There is an application called Pi that allows you to mine Pi. Pi really doesn't have a value till today but they are promising that soon they will announce phase 3 near the end of this year and each pie will have a value in dollars so you can exchange these with real money. So, you will not lose anything if you install the application and mine on it.
I hope you enjoyed the article. If you have any questions you can comment below.
Happy Earning !!
FAQ
Can You Mine  Bitcoin on Android Phone?
Yes, you can mine Bitcoin on Android Phone. You can use an application like Crypto Tab to mine Bitcoin on Android.
Is Bitcoin Mining on Android Profitable?
Most of the android mining applications work in the cloud. Mining on Android may not be so profitable but the limited coins you are earning may be useful in the long term when they increase their price.
Can you mine Bitcoin in the cloud on Android?
Yes, You can use cloud mining platforms directly from your Android. You can use an application like Crypto Tab to start cloud mining Bitcoin from Android.
Which Cryptocurrency can you mine directly with an Android phone?
You can cloud mine Bitcoin with an application called the crypto tab. Similarly, you can mine Pi, a new cryptocurrency directly on your phone.
Disclaimer
The Post is only the views of the author and should not be taken as legal or financial advice.