Having an SMTP server for cold emailing is essential as it helps to send unlimited emails with no restrictions. In this post, we are going to see how you can get a free SMTP server for cold emailing without having to do lengthy setups.
What is an SMTP server?
An SMTP server is like a postman that becomes the entity entrusted to ensure the delivery of your emails. In short, you generate an email at your email client which is your mobile email application or web mail on a laptop. When you click send, you entrust an SMTP server (eg:- gmail has its own SMTP server) with your email. The email passes through a series of SMTP server before it arrives at its destination.
What is Cold Emailing?
Cold emailing is a process in which unsolicited emails are sent to an email list without prior contact in order to generate leads. If we don't have an email list and looking for customers or leads, then cold emailing is the solution where we send bulk emails with pre-scrapped email lists.
The emails lists are purchased or acquired from 3rd party sources which provide email lists according to business types and regions.
What are the limitations of Cold Emaling ?
Cold emailing is done with the help of bulk emails to unverified lists which creates the following limitations.
The email list is mostly unverified which results in many emails being bounced and undelivered.
The SMTP servers and bulk email providers limit the number of emails that can be sent at a time.
The Bulk email providers like sendgrid etc are expensive and charge a lot of amount.
The Emails can end up in a spam if emails in your email list are mostly not valid or a lot of emails get bounced.
Now to solve these issues you can have your own SMTP server where you can send unlimited emails without bothering for price. You can check our tutorial for SMTP server setup with unlimited emails.
In this tutorial, we are going to see how quickly we can setup our own SMTP server for totally free and how gmail can be configured to send emails from our SMTP server.
Why to get a SMTP server for cold emailing?
Sending emails with bulk email providers cost a lot of money and mostly they block your account if you are sending cold emails from their servers. Limits of some of the bulk emails providers are given below:-
| | |
| --- | --- |
| Service | Number of Emails allowed per day |
| Mailer Lite | 12,000/ month |
| Mailer Jet | 200 |
| Send grid | 100 |
| SendinBlue | 300 |
| Mail Chimp | 2000 |
So, it is better to avoid bans and freedom to send unlimited emails to have your own custom SMTP server with custom email address.
How to get free SMTP server for cold emailing?
To get Free SMTP server, we are going to follow two steps.
A dot tech domain name with free SMTP
Setting up gmail with our SMTP server
1. Get a domain with free SMTP server
A domain name represents the name of your business which will be used to send emails. For example in contact@cavementech.com the cavementech is the domain name. Now for this tutorial , you need to get domain ending in dot tech (.tech). The biggest advantage of dot tech domain is that SMTP server comes pre setup with the domain. Now, to get the dot tech domain there are two ways.
Check our tutorial to get canva pro for free to learn how you can get Github student pack.
Once you have your Github student pack, you can check the free domain offers and click on dot tech domain offer to get free domain.
The tech domains offer two free emails that can be used to send bulk emails. Once you are logged into your panel and got your domain, you can go to email section in control panel and open the settings.

Now to get the SMTP server credentials click on add user. Provide details like the email address you want to send emails from and password and click save.
Now click on manage users and select the email address, you just created and will see the windows like below which will have all necessary details for SMTP server.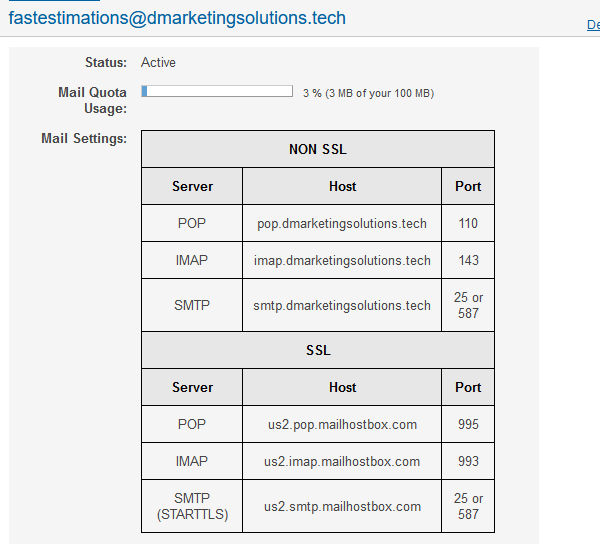 2. Setup custom SMTP server with gmail for cold emailing
Now we have our SMTP details. Now, the next step is to add your SMTP server details to the gmail. In this manner, you will be able to send emails from your own custom email address and SMTP server while utilizing the gmail interface.
Now go to setting on your Gmail and select see all settings.
Now go to the section "Accounts and Import" and select add another email address in the subsection "Send Email As" .
Now, it is going to ask about account address , password and SMTP details. Just provide them as you already have the details. Note, it may ask you to verify email which you can do by going back to your domain email management and checking email from there.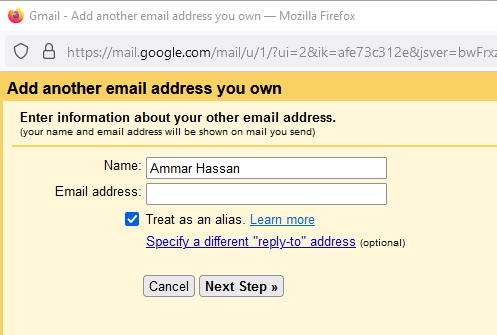 Now to send an email, just go to the compose and select from address and send your emails.
Conclusion
This is the fastest way to get a free SMTP server and send emails with gmail. You get to be on the same interface of gmail but can send emails from your own email address. Just remember google has limitation of 500 emails/ day.
FAQ
How to get free SMTP without any additional setup?
You can get free SMTP server if you get dot tech domain name. Dot tech domain is provided for free for students with Github student pack.
Can you use gmail for cold emailing?
Using Gmail for cold emailing is not the best practice. However, you can setup your custom email address within gmail for free to send emails from that address.
What is the daily limit of sending emails with Gmail?
Gmail allows only 500 emails per day on free accounts.