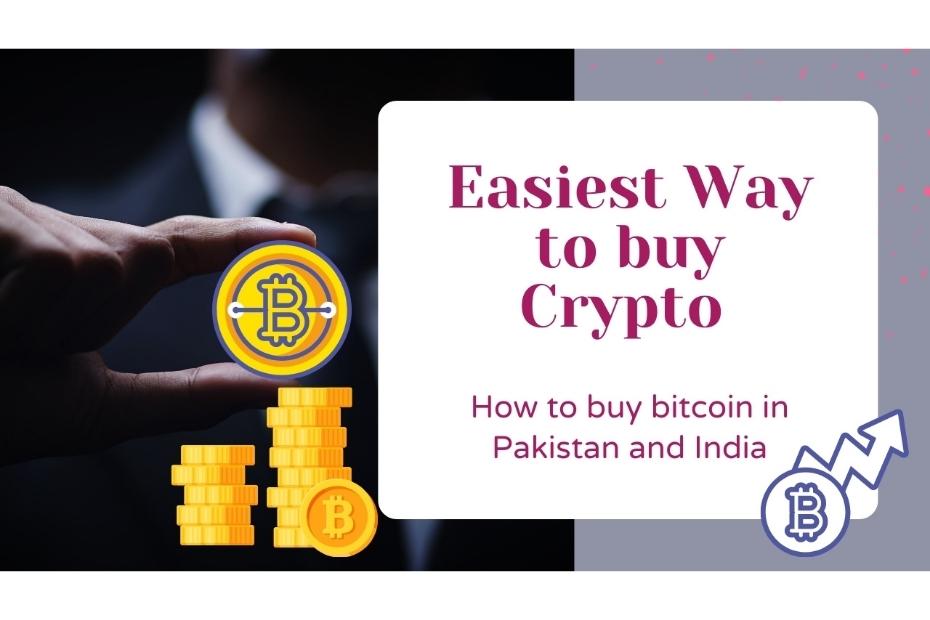 Easiest Way to Buy Crypto
Cryptocurrency is the future. Many people have lost the chance to get rich because they once thought to buy Bitcoins and other crypto but did not put any effort to learn where and how to buy cryptocurrencies like Bitcoin, Ergo or Cardano securely.
Buying Crypto is very easy nowadays and we can even buy bitcoin in Pakistan and India very easily. Even though there are no restrictions on buying crypto directly in Pakistan and India. However, we are going to discuss the easiest method to buy bitcoin in Pakistan and India with easy paisa and local bank transfer.
We are going to cover the following subjects in this post:-
The easiest method to get a cryptocurrency wallet on Binance.
Registration Method on Binance Crypto exchange.
How to buy cryptocurrency securely without credit cards especially from India, Pakistan and other countries where credit cards are not popular.
How to convert cryptocurrencies from one currency to other.
How to Buy Crypto in Binane Exchange
What is Binance
Binance is a crypto exchange that is among the top crypto exchanges working nowadays. Binance can be used to purchase, trade and convert cryptocurrencies. It can also be used for the safe storage of your cryptocurrencies assets. Now let's start exploring how we can enter the crypto world with Binance crypto exchange.
Step-1 Registration on Binane Exchange
Get to Binance official Website and Register for a new account.
Binance sign up method is very simple and you can simply register on the Binance website with any email address.
You can also Register within the smartphone application if you do not want to register from the official website.
The registration will ask for verification of your account just enter the code received in the email.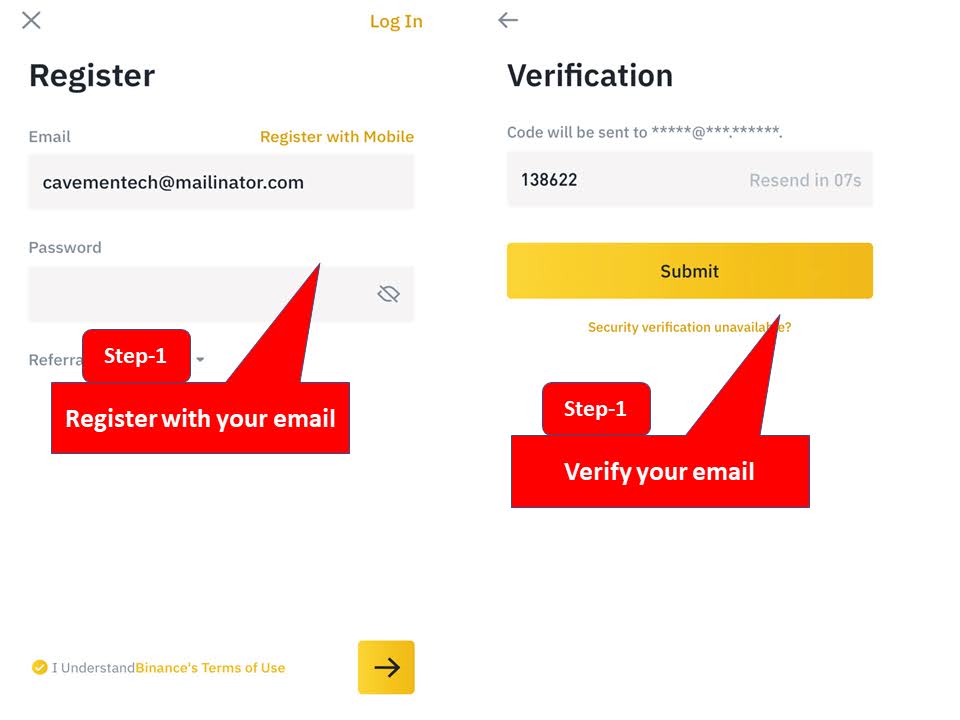 Step-2 Installing Binance on Android or iPhone
Install Binance application from Android Google store or Apple store.
Open the Binance application and Log in with your email address and password.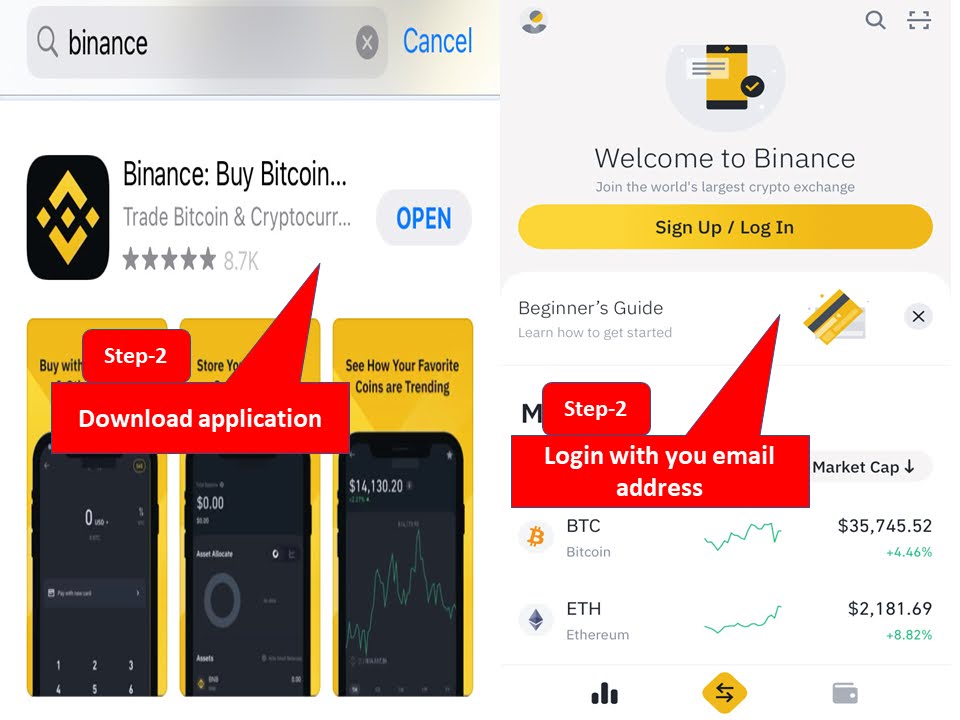 Step-3 Binance Account Verification
Now is the time to verify your Binance account. Binance Account verification is very simple.
Just click on verify my account. It will ask for your address and then you can upload your CNIC pictures (front and back)
Verification usually takes 2-3 days.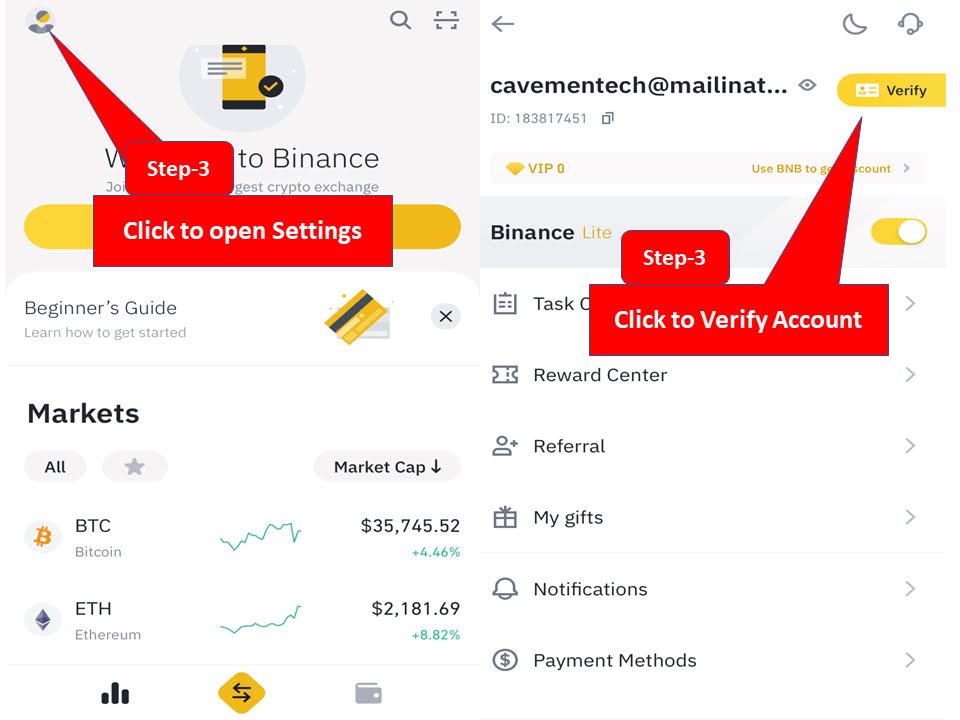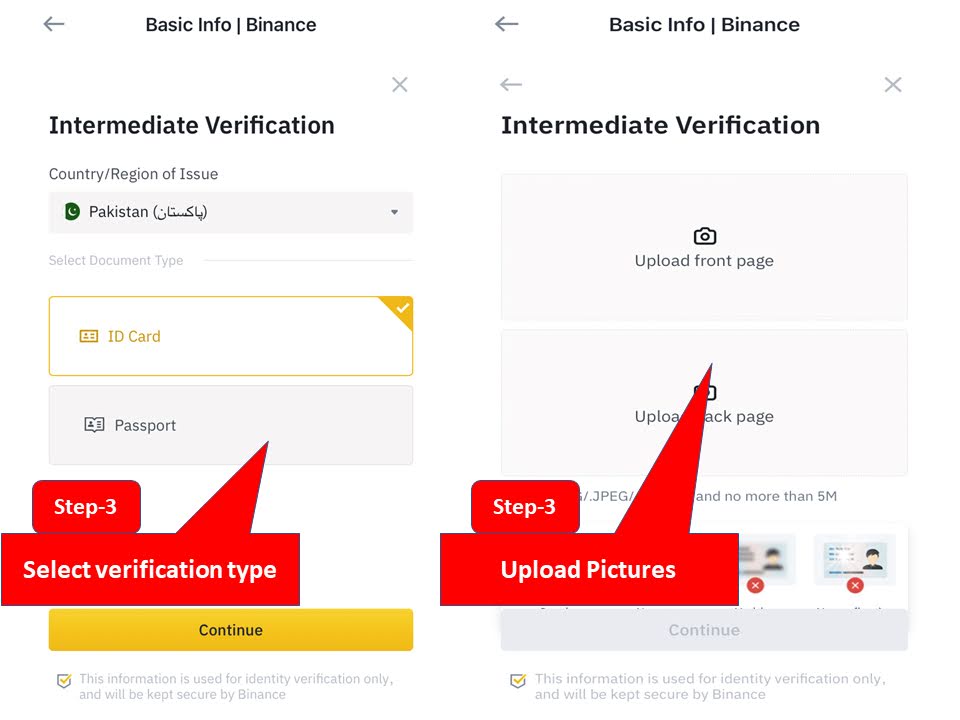 Step-4 Binace Interface
Now you are ready to roll and start trading crypto. The basic interface of the Binance application is quite simple and have three buttons at the bottom. 1st one is to see the latest trends and Crypto market share, 2nd is to convert, buy and trade cryptocurrencies and 3rd is to see your wallet, where your balance, is shown.
Step-5 Get a Crypto Wallet
Binance offers wallets of nearly all major cryptocurrencies which include Bitcoin, Ethereum, Ergo and Dogecoins. Now if you want to transfer your cryptocurrency from some other location to your Binance wallet, You can click the centre bottom button and click receive. Just select your currency and your wallet address will be shown which you can use to receive your crypto amount.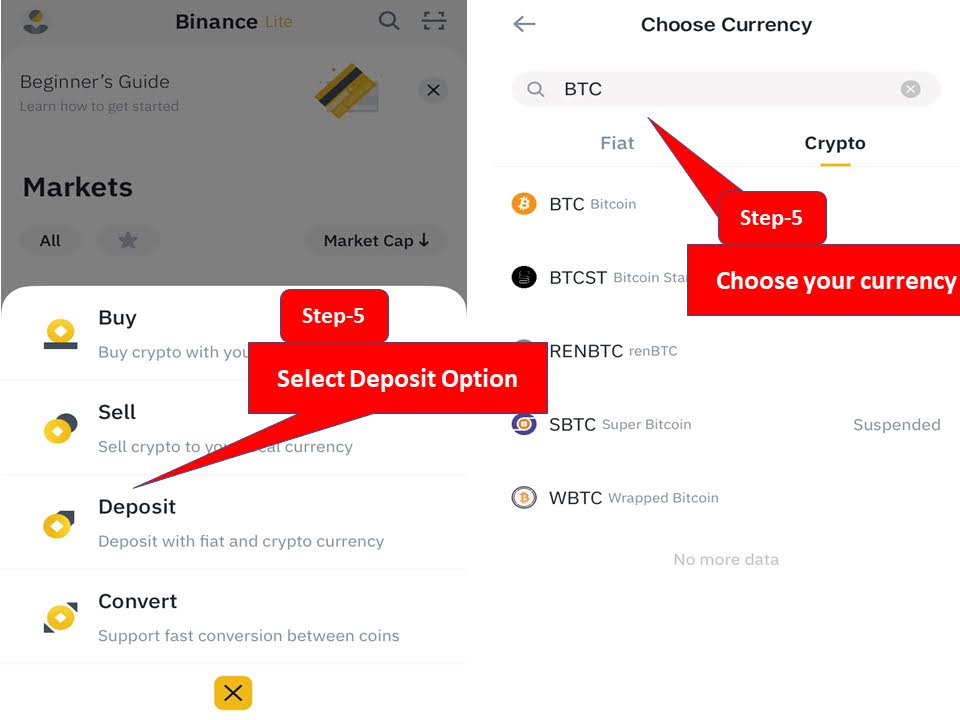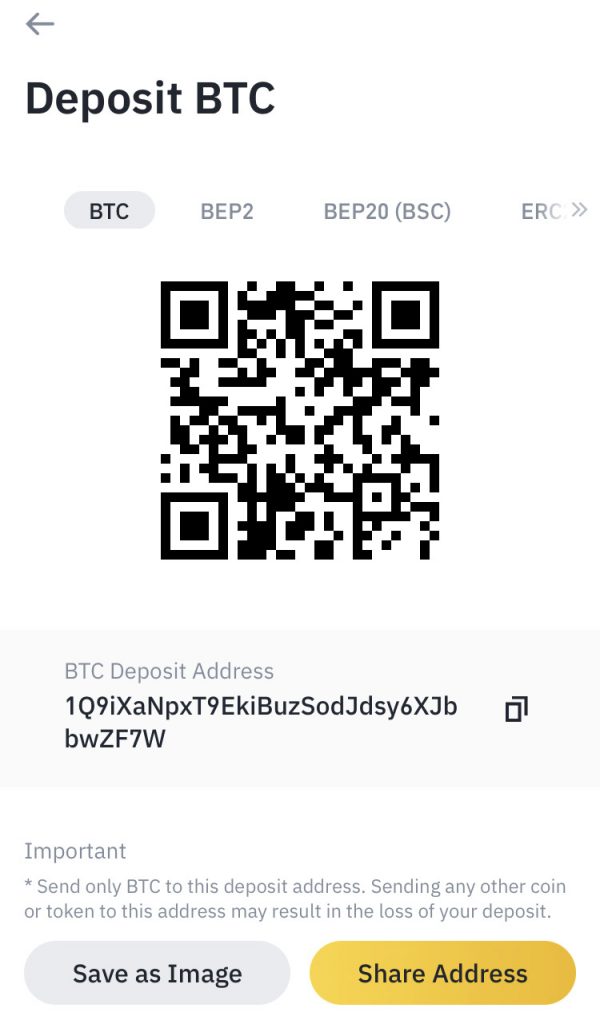 Step-6 (Buy Bitcoin without credit card)
The biggest problem we face in India, Pakistan or other Asian countries is the lack of credit cards and Government restrictions on buying Bitcoins and other cryptocurrencies. Binance offers the facility to buy Bitcoin in local currency with peer to peer trading.
Binance provides a platform called P2P where you can buy and sell cryptocurrencies directly from people in your country.  For example, p2p in Pakistan supports buying bitcoin with easy paisa, jazz cash and bank transfer.
To go to P2P toggle pro mode from settings and then go to P2P.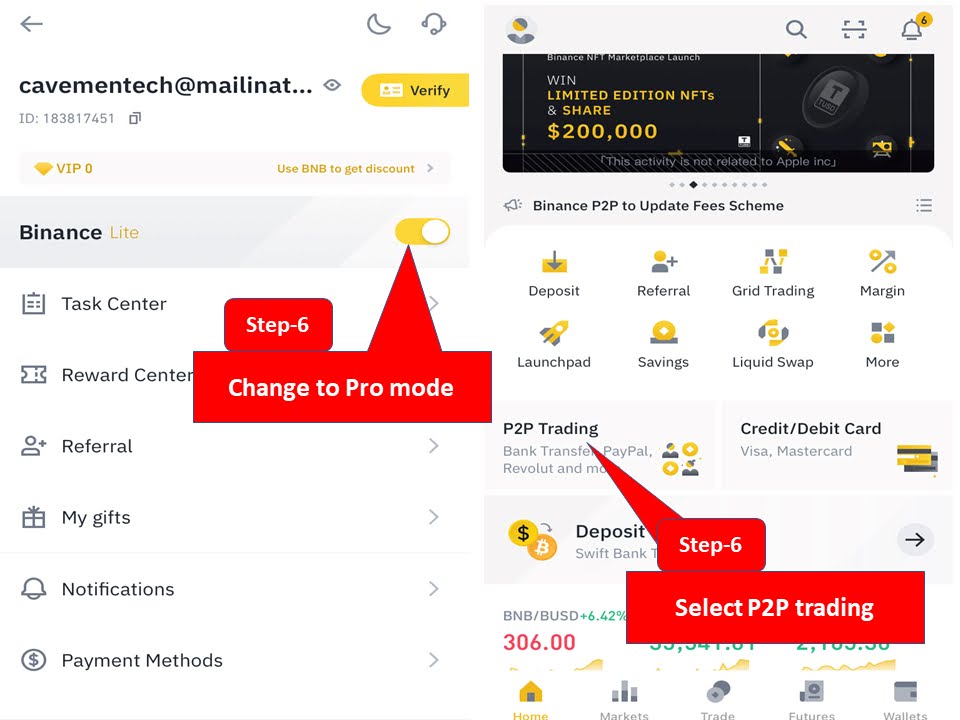 Step-7 Buy Crypto in Local Currency
After choosing the P2P option, you can see different vendors selling and buying different currencies. You can initiate a trade with any vendor. Binance ensures that there is no fraud and trade goes smooth. Once you buy any cryptocurrency, it will appear in your wallet.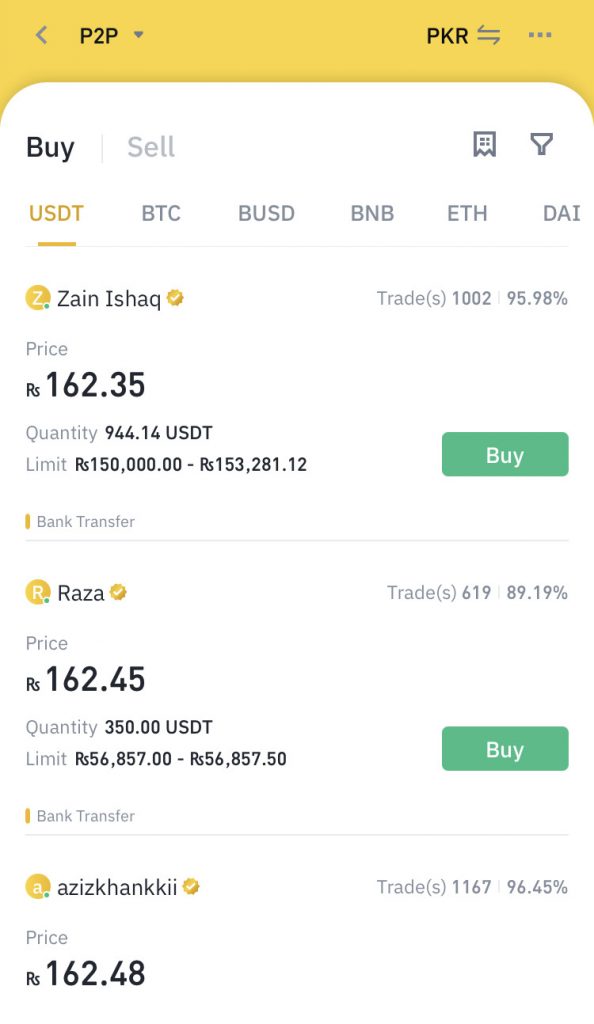 Pro tip
Always buy USDT from the local vendors on P2P instead of Bitcoins. It is cheaper and safer. You can, later on, convert it with Binance to bitcoin or Dogecoin as per your liking. If you want to earn bitcoins without any investment, you can join crypto affiliate programs.
FAQ
How to buy Bitcoin in Pakistan?
You can use the p2p functionality provided by Binance exchange and can directly buy Bitcoins in local currency with Easypaisa, Jazz cash or bank transfer.
How to get a free Bitcoin Wallet?
You can get a free Bitcoin, Ergo or Dogecoin Wallet from an exchange like Binance.
What is Binance P2P?
Binance P2P is a facility provided by Binance exchange. With P2P, you can trade cryptocurrencies in local currency with local vendors.
How to buy Bitcoins without credit cards?
You can use the P2P trading method on Binance and buy cryptocurrency from local vendors in your local currency with a bank transfer.
Disclaimer
The Post is only the views of the author and should not be taken as legal or financial advice.