How to Determine if DAO is a scam?
DAOs (Decentralized autonomous organizations) have taken the Web3 realization a bit further. There are very interesting projects that DAOs are involved in and DAOs are becoming a reality day by day but on the other hand DAO scams are also on the rise. A DAO, Constitution DAO came very close to buying an original copy of the US constitution. Similarly, Assange DAO has raised $55 million in an effort to release Julian Assange.
But the fact is that many DAOs in the past have proven to be fake and Ponzi schemes. With many DAOs offering returns in multiples of thousands, the information about the authenticity and underlying motives is too limited and often limited to a few forums. That makes it harder to determine that a DAO has a real value. Crypto world is like a double edge sword and you must analyze each crypto project thoroughly before getting involved in any crypto project.
The following list can help determine if a DAO is a scam. This list may not be taken as final advice and maximum effort be done to determine a DAOs authenticity before joining a DAO.
1.    Availability of strategy and basic Information About DAOs
The first and foremost thing while assessing a DAO is the availability of basic information about the DAO. This includes things like:-
A comprehensive DAO whitepaper. Analyze the authenticity and credibility of the whitepaper and ensure that it is not derived from the whitepapers of other DAOs.

The growth strategy of DAO.

The aim and purpose of DAO.
Just don't rely on high APY figures or developers' words for joining a DAO. Analyze DAO's short-term and long-term plans and what objective a DAO aims to achieve in the long run.
How to check a DAO's ratings?
To check a DAOs rating, you can visit a site called "isthiscoinascam.com". The site tracks more than 250 crypto coins and tokens. To check a DAO's rating, you can check the DAOs token for credibility check. For example, you can check the rating of Time token(Wonderland) on the website which comes out to be 75%. 
Most of the DAOs have very low ratings owing to little information available about them.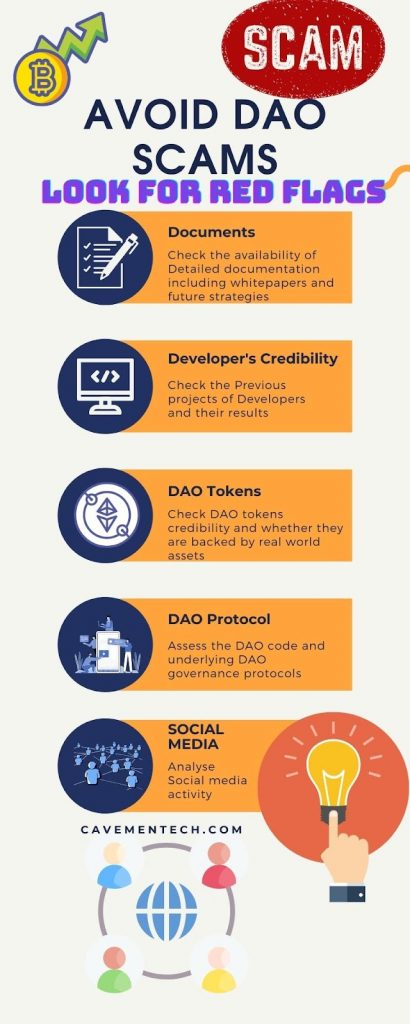 2.    DAO developer teams credibility
The developer's team's previous projects or an established developer team increases the DAO project authenticity. See the team's previous projects and how well they performed. If there is a new team, investment in the DAO project may be a bit risky.
Some DAO teams prefer to remain anonymous to avoid government crackdown but involving your self in the anonymous DAOs may be too risky.
3.    DAO Protocol building blocks
The protocol is the code that governs the working of a DAO. Always inspect the code for any anomalies. Check for any restrictions on finances. Assess the decision-making mechanism and analyze the governance protocols of the DAO.
Audit Code.

Assess the decision-making protocol.

Check how a DAO is governed.

Ensure the DAO is not hacked in the past.
4.    Credibility of DAO tokens
Check the DAO token's credibility on various crypto sites and look for their value trends. Check if the DAO token is backed or pegged by any real-world asset or not. DAO token not backed by any asset is a big red flag.
Moreover, look for the other assets that a DAO has like NFTs.
5.    DAO Social Activity
DAOs are dependent on new investors to expand their portfolios and investment. Social media presence and social media activity is the basic mechanism to increase interest in the DAO project and attract investment. If the social activity of a DAO is decreasing especially from the development team, watch out before getting involved in the DAO.
Similarly, check out the official website of the DAO project.  A professionally built websites with a clean interface and sufficient details increase a DAO credibility
6.    Community Analysis
Web3 community is very helpful and forthcoming. Join web3 and DAO communities on Discord or Twitter. Try reaching out to web3 developers individually to get more information about the project. Look for any credible investor who has invested or spoken in favor of the project.
At this point, there are already many DAOs that proved to be Ponzi schemes. So, before getting involved in any DAO, it is essential that a DAO must be assessed thoroughly to save later damage.
How to Assess a DAO project?
People and the community offer the best assessment of a DAO project. Look for project comments on Ethereum.io and bscscan.com for people's reviews on the project.
FAQ
Are all DAOs Ponzi schemes and scams?
No, while DAOs offer APY in thousands to millions, not all DAOs can be considered as Ponzi schemes. DAOs like Wonderland and Uniswap have established themselves over the years as legitimate DAOs.
How you can assess a DAO before joining DAO?
Look for the red flags like lack of literature about the DAO, Social presence of the DAO, or anonymous development team before involving yourself in a DAO.
What are Some of the most noted projects of DAOs?
A DAO tried to buy an original copy of the US constitution. Similarly, a DAO is raising funds to free Julian Assange.
How to check a DAOs rating?
Disclaimer The Post is only the views of the author and should not be taken as legal or financial advice.